Sub Menu Toggle
Isaiah Garcia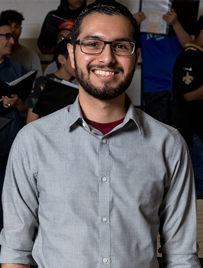 Name: Isaiah Garcia
Age: 22
Major: Music Education
Hometown: San Benito 
Why UTRGV?
UTRGV remains an affordable option, while providing students with the resources and opportunities to build successful careers in their respective fields. UTRGV boasts a long list of exceptional faculty members, many of whom hold positions in the UTRGV School of Music. In addition to being academically exceptional, UTRGV's faculty members are invested and genuinely concerned with the success of their students. You don't find that everywhere.

What made you decide on your current major?
I was unsure of what to major in, so I went with something I enjoyed. After four long years, I am passionate as ever about my work!
What do you like most about UTRGV?
My teachers have always inspired me to become the best musician and student I can possibly be. My applied voice instructor, Dr. Daniel Hunter-Holly, taught me that great teachers give students the tools to teach themselves. These tools have not only allowed me to run a better diagnostic on vocal issues, but they've been incredibly useful for developing skills in other areas of interest. UTRGV has also provided me with several opportunities to express myself creatively, especially since offering movement/improvisation and applied composition courses.
What are some of your favorite study spots on campus?
My favorite study spot would have to be the 2nd floor of the library. I take that back; I'm usually distracted by all the other books I could be reading besides the textbook. Technically, most of my "study" time is now spent inside one of the new practice rooms!

What does being a Vaquero mean to you? 
Being a Vaquero means creating an enduring legacy for a new institution, which will be essential in transforming South Texas for generations to come.

What opportunities has UTRGV helped you find throughout your community?
UTRGV has connected me to a network of working artists who frequently organize recitals, concerts and other performances that help our artistic communities flourish. I would like to commend Dr. Sean Taylor for showing me, and so many others, the endless range of possibilities for collaboration; neither age or alma mater can stand in the way of elevating the arts in our community.

What are a few of your favorite books?
"The Stranger" by Albert Camus, "Infinite Jest" by David Foster Wallace and "Nature Anatomy" by Julia Rothman.

What's in your playlist right now?
A lot of Dinosaur Jr., all of Hejira and all of In Utero.