Sub Menu Toggle
Gisela Saldana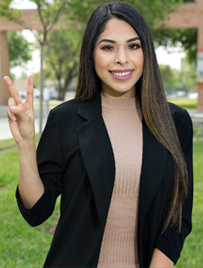 Name: Gisela Saldana
Age: 26
Major: Business Administration
Hometown: Ciudad Victoria, Tam. Mexico 
Why UTRGV?
I love the opportunities that UTRGV gives us to grow and develop ourselves as individuals and professionals. Also, I love that there are so many activities and events that unite the student community. I think the most valuable aspect of UTRGV would be the crossed-culture environment where you get to meet people from all over the world. 
What made you decide on your current major?
I'm a natural leader and I consider myself having the characteristics required to one day become a successful manager in a company. I deeply enjoy everything related to business. Someone that has been part of my success in school since day one is my mentor, Professor Andres Bello. He inspired me to always seek new challenges, as well as giving me advice and supporting me in all that I want to do.
What are your plans after graduation?
I want to keep working toward my education to earn a masters degree. I recently got accepted and earned a scholarship to go to a college in Washington state. This would give me the opportunity to experience a different environment and to see new places. 
What are you involved in on and off campus?
One of my most rewarding experiences was to be crowned as one of the UTRGV Homecoming Royals in 2017. I also enjoy providing information and supporting others to achieve their goals. I have been mentoring other international students for two semesters as part of a university program named "I am a buddy." Currently I am working with the university in the Department of Marketing and Communications as an account executive. I believe that working for UTRGV has given me so much passion and love for my school that I would like to transmit and share this spirit with other students. Along with school, modeling is one of my passions. Some of my experience include modeling for different designers and stores. 
What is your biggest accomplishment to date?
Being an international student comes with challenges. I am from Mexico and my first language is Spanish. I came here with basic English communication skills; however, basic was not enough to be in college. I did not let that discourage me from my dreams. I believe every new obstacle is an opportunity to grow and learn. I turned this language barrier as an opportunity to better myself managing to be an honor student since my first semester. 
What advice do you have for future students?
As a student, I feel my success lies on my disposition to learn and seek new opportunities. My advice for future students is to never stop dreaming and always be passionate about what you do. Don't be afraid of failure, you might be able to learn more from a lost battle than from a victory.