Sub Menu Toggle
Erika Elizondo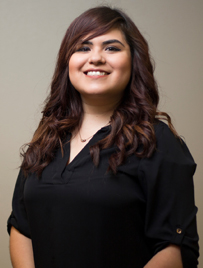 Name: Erika Elizondo
Age: 23
Major: Mass Communications
Hometown: Mission 
Why UTRGV?
I decided to attend UTRGV due to their grand curriculum and variety of degrees. As a senior in high school, I had no idea what I wanted to do professionally given that I hadn't found my passion for something that I loved to do. UTRGV was the perfect fit for me because it gave me many degrees to choose from. 
What made you decide on your current major?
At the beginning of my college experience I was captivated by the field of marketing. I love being creative and thinking out of the box, and I knew I had found my place. I decided to major in Mass Communications specializing in advertising with a minor in marketing. This degree provides a great variety of skills that are imperative to a marketer and I just felt they went together.
What are your plans after graduation?
Currently I hold the position of marketing assistant at the Student Union. This position has challenged me like no other, but it's also one of the best decisions I have made. As a marketing assistant, I create the calendar of events for the Student Union, take pictures during these events, manage their social media accounts, create media content such as video ads and develop ideas for future events the students may enjoy. This opportunity has helped me decide on what I want to be - an event planner and event marketer in the future. 
What are you involved in on and off campus?
I consider myself to be very involved on campus. If I'm not doing something productive with my days I don't feel like myself. I'm part of Greek Life as a sister of Kappa Delta Chi Sorority Inc. which has helped me develop professionally and academically. I have been able to apply my marketing skills, prepare myself for interviews and serve the community with almost 100 hours of community service thanks to this sisterhood. In my growing professional path, I have been able to hold two marketing internships. One of them was with UTRGV Continuing Education where I was a Social Media Specialist. I oversaw creating a tight social media schedule for various platforms as well as to develop some promotional material and carry on social media campaigns. My second internship opportunity is with Sodexo at UTRGV Dining Services, where I currently serve as a marketing intern. With this brand, I have been able to develop myself in the fields of advertising, social media and event marketing. I love being an intern at Sodexo and it will be one of my favorite experiences as a college student.