Sub Menu Toggle
Delia De Anda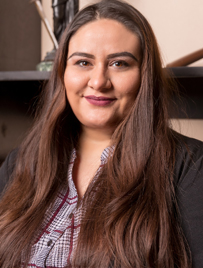 Name: Delia Beatrice De Anda 
Age: 34
Major: Criminal Justice
Hometown: Brownsville 
Why UTRGV?
I chose UTRGV because of the opportunities that it offers its students and because it is close to home. UTRGV offers an array of degree programs for both undergraduate and graduate students. There are several clubs and activities on campus that allow students to pursue their current interests or discover new ones. The faculty, staff and student body at UTRGV are beyond compare. In my personal experience, professors have gone above and beyond to make sure that their students, including myself, are valued and respected, and that we get the most of our college experience. UTRGV has provided me with the necessary tools to be more successful both in my career and in life.

What made you decide on your current major?
I have worked in a law firm setting for six years; starting out as a file clerk and eventually working my way up to a paralegal. I chose a degree in Criminal Justice because I love the legal and criminal justice fields and plan on going to law school after I graduate. When I become a lawyer, I want to dedicate my time and services to organizations such as Legal Aid and the Innocence Project to help those that are unable to afford legal services and those that have been wrongfully accused.
What do you like most about UTRGV?
It is impossible to choose what I like the most about UTRGV! I like the professors that I have had so far because they have been so helpful and encouraging. I like the staff at Academic Advising and Financial Aid because they are always there to help and answer questions either via phone, email or in person. Every single one of my semesters has gone smoothly thanks to their help. Because I work full-time and attend school full-time, there have been instances where I have had to take online classes and I like how easy they have been to navigate.
What are some of your favorite study spots on campus?
I usually go to the library to study and the libraries at both campuses are very nice and comfortable. 
What does being a Vaquero mean to you?
I recently won the "Get Your Orange on the Billboard" contest and my tagline was "Home Grown Orange Pride." And that is what being a Vaquero means to me; UTRGV is in the Valley, it is our home. UTRGV focuses on the growth and development of our diverse roots by helping its students and community. I am proud to be a Vaquero and wear our school colors with pride anywhere I go.        

What opportunities has UTRGV helped you find throughout your community?  
Through UTRGV's V-Link, I was able to find the Pre-Law Student Association. I have been a member of the association for three semesters now and have met some incredible people. This year I am serving as their Parliamentarian and I am so excited because we plan, as always, to bring in attorneys from the community and other legal personnel to speak to our members about what the legal field is like and provide useful information about law school.

What are a few of your favorite books?
J.D. Salinger has had my heart since high school. Books like Catcher in the Rye and Franny and Zooey about the challenges and emotional strains of growing up and social struggles can also be very relatable in adulthood!

What's in your playlist right now?
My playlist will always have my two favorite artists: Avenged Sevenfold and Breaking Benjamin.