Sub Menu Toggle
Chris Saldivar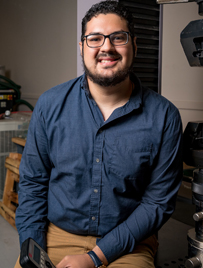 Name: Chris Saldivar
Age: 22
Major: Engineering Technology
Hometown: Brownsville 
Why UTRGV?
After graduating from high school, I wasn't truly ready to leave the Valley. Finding a university that was within my city was the best option for me. With passionate and devoted professors, UTRGV was the clear choice. I knew I could trust the system and never be disappointed with what UTRGV had to offer. 
What made you decide on your current major?
All my life, the creation and design of objects has always intrigued me. Using past knowledge, along with the influence of modern technology to create something new, is something I have always enjoyed and continues to inspire me today. In order to follow my aspirations and goals, I knew that engineering technology was the pathway I needed to take. With the help and guidance of engineering professors, I knew that I was in the right hands.
What do you like most about UTRGV?
From the beautiful Brownsville campus to the knowledgeable engineering professors, UTRGV has it all. With all the new resources that the engineering technology program has added recently, such as the coordinate measuring machine, collaborative robotics, the 5-Axes CNC machine, 3D Artec Scanner, and the related applied research in these areas - there are many learning opportunities that UTRGV can provide. Above all, the UTRGV Engineering Technology professors at the Brownsville campus have been the best. It has been an honor and pleasure to be guided by them. Without their influence, it would have been a difficult task to continue my education.

What are some of your favorite study spots on campus?
Over the past four years, I had many favorite spots from the library to the LSHB. But by far the best place to study is the Engineering Technology Instrumental Lab located in SETB. This past summer, I was hired as a student researcher and conducted all my work in that lab. There is no other place to get work done than in that room.
What does being a Vaquero mean to you?
What comes to mind when thinking about being a Vaquero is honor and pride. Being labeled as a Vaquero is something I'll take to heart; it's a remembrance of home and dedication.
What opportunities has UTRGV helped you find throughout your community?
This past summer, I had the opportunity and pleasure to conduct a summer research project guided by the Engineering Technology professors, Dr. Jesus Gonzalez and Dr. Immanuel Edinbarough. Working as a student researcher, I've learned vital information that can help influence and mold my career in the future. This experience has given me a wider aspect of what UTRGV has to offer.
What are a few of your favorite books?
"Ready Player One" is one of my recent favorites in my small library. I also have a soft spot for "Of Mice and Men" as well. Both books have different intentions, but important life lessons. The sense of hope for the future embedded in both books is what has made them some of my favorites.  

What's in your playlist right now?
Currently I just added Logic and Bryce Vine to my playlist, but you can always find Imagine Dragons in my daily mix.