Sub Menu Toggle
Carla Santillana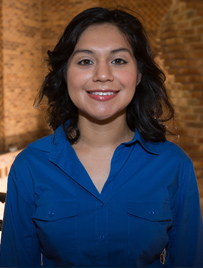 Name: Carla Santillana
Age: 22
Major: Art Education
Hometown: Brownsville 
Why UTRGV?
The reason why I chose to attend UTRGV is because it embodies most of the student population's Mexican heritage. It embraces our culture, represents who we are and where we come from. Unlike other universities, UTRGV offers a unique experience.

What made you decide on your current major?
I am an Art Education major because I have a deep passion for the arts and I feel that the Hispanic population is largely underrepresented in the art community. As a Hispanic, to succeed in the arts and to have my work recognized in the global community would be a huge accomplishment for me. It would also bolster Hispanic representation in the art community and motivate other Hispanic individuals to pursue a career in the arts. Despite its challenges, I am confident that through my vision and my art, I can make my mark in the global art community and thereby inspire future Hispanic artists.
What do you like most about UTRGV?
I had the opportunity to meet many great professors at UTRGV. They genuinely enjoy teaching and they care for their students, which is something that I aspire to be as an educator. All of them have inspired me in one way or another to be as ambitious, hardworking, kind and confident as they are.
What are some of your favorite study spots on campus?
Since I work on large artwork, my favorite area to go work is at the Rusteberg building. Besides Rusteberg being quiet and spacious, there are always students there during my study periods who are willing to help each other improve in their artistic skill, so it is always a creative and learning process.

What does being a Vaquero mean to you?
To be a Vaquero is an experience. To me a "Vaquero" or being a vaquero can symbolize strength, power and perseverance. It defines me in a way that says I'm proud of my background and cultural roots.
What opportunities has UTRGV helped you find throughout your community?
UTRGV has helped me financially and academically. It has notified me about scholarships, volunteering, and art contests, which I take advantage of. As a matter of fact, I applied and won second place for last year's holiday card design contest at UTRGV. If it was not for UTRGV, I wouldn't be able to have opportunities to exhibit my artwork.

What are a few of your favorite books?
Two books that I enjoyed reading were The Perks of Being a Wallflower and Exploring Psychology. The Perks of Being a Wallflower is basically about high school and wanting to fit in. High school was a weird and awkward phase for many of us, especially for me, so I related to the main character on a personal level.  Exploring Psychology is a textbook that taught me about human thought processes and behaviors. It is the only textbook that I looked forward to reading in college.

What's in your playlist right now?
One artist that I cannot stop playing is The 1975. They are an indie-pop band with nostalgic instrumentals that reflect on themes about adulthood, change, love and fear, which are all topics that I can deeply relate to. They have helped me realize that I am not alone and that I can power through any obstacle.