Sub Menu Toggle
Bertha Gutierrez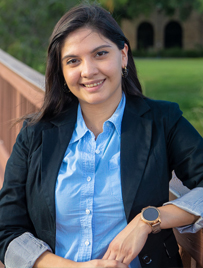 Name: Bertha Gutierrez
Age: 26
Major: Engineering Technology
Hometown: Brownsville 
Why UTRGV?
I chose UTRGV because it was one of the colleges that offered my field of study. Also, it was the one that better suited my financial needs because I always wanted to save as much money as possible for school books, food and school supplies, among other needs, and UTRGV has great tuition and installment plans. I also chose this university because it was close to home and I didn't want to be away from my family, as they are the ones that always support me in my big life decisions.

What made you decide on your current major?
Since I obtained my associate degree in computer drafting and design at a technical school, I wanted to expand my knowledge and continue my education by pursuing a bachelor's degree in a similar field. The engineering technology degree plan offered similar classes but focused more on engineering than technology. This degree plan also interested me because the classes are not only lecture classes, but every class has its laboratory hour where you can practice your engineering skills.  In addition, there are many great job opportunities where you can apply as an intern for your practices or as a permanent worker.
What do you like most about UTRGV?
What I like the most about UTRGV is the great help we receive from the counselors. They really help us and guide us throughout the school year to make sure we do not miss any classes and can be ready for graduation. The UTRGV career connections helped me find my first internship, where I am improving my knowledge and putting my skills into practice.
What are some of your favorite study spots on campus?
One of my favorite campus spots to study is one of the Set B building computer classrooms because it is close to my engineering classes and it is always available for all students that need a private place to study. This classroom has many software programs available for students to use and there are tutors available at different hours of the day.
What does being a Vaquero mean to you?
Being a Vaquero means you are part of a family community where you can meet and get along with extraordinary people. It is an inspirational place, full of knowledgeable people that really push you to pursue your dreams.
What opportunities has UTRGV helped you find throughout your community?
Here at UTRGV I realized how important and essential it is to work together as a team because it helps you expand your mind, improve your skills and share new ideas together. UTRGV is and will always be a big part of my life since this university helped me find my passion of becoming an engineer.

What are a few of your favorite books?
"Lo que vi' by journalist Jorge Ramos is a very peculiar book because it includes his chronicles from his travels around the world and the most interesting anecdotes of his years as a professional journalist. "Kingdom of the Golden Dragon" by Isabel Allende is a very interesting fiction novel that combines the story of two kids that travel to a fictional country in search of a sacred statue. I love this book because of the setting of the story, although it is fictional. It really lets you travel to a new world and escape from real life for a little while.

What's in your playlist right now?
On my playlist you can find one of my favorite singers, Romeo Santos. He is a famous bachata singer and his new album "Golden" is amazing. I also enjoy listening to melodies and relaxing music when I want to concentrate on my studies and homework.