Sub Menu Toggle
Ayled Villarreal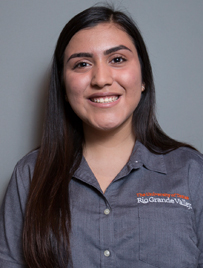 Name: Ayled Villarreal
Age: 21
Major: Accounting
Hometown: Brownsville
Why UTRGV? I chose UTRGV because I wanted to be close to my family in order to be an example of what is possible. I want my family here in the U.S., as well as my family in Mexico, to witness my struggle but also my commitment toward attending college and obtaining a bachelor's degree. UTRGV has provided me with my education, experience, and most importantly, my future.
What made you decide on your current major? When I started college, my major was International Business. As a business student, you are required to take Intro to Financial Accounting and Intro to Managerial Accounting. After those classes, I found accounting to be of interest to me and I changed my major to Accounting. Both professors showed so much passion toward accounting that it was contagious. I believe it is a tough area of study that requires diligence but I am grateful to our UTRGV Accounting professors who show passion and dedication, not only to teaching but toward the students.
What are your plans after graduation? After graduation I plan to enroll in the graduate program for Accountancy. I wish to find a full-time job where I can gain skills and knowledge, while also earning a living to support myself. My lifetime goal is to achieve a stable life and job, and to be in a place in life where I do not have to worry about money or stability.
What are you involved in on and off campus? I am a member of the Student Employment Initiative at UTRGV. I am currently working at the office of Grants & Contracts under the Division of Research and Innovation. By working there, I am provided the opportunity to work alongside accountants who guide me and teach me new material, granting me the experience to eventually become an accountant myself.
What is your biggest accomplishment to date? I am on the road to becoming the first person in my family to graduate from a university with a bachelor's degree by having dedication and determination toward my goals. I have been on the Dean's List for the past four semesters. I believe all this hard work is getting me closer to my biggest accomplishment everyday. It is challenging having to work in order to support myself while also being a full-time student, but not impossible. It just means bigger rewards are ahead of me.
What advice do you have for future students? I have been told several times to speak up in order for people to listen to what I have to say. This is something I am currently working on. I believe it is a very important piece of advice for those of us that are serious and shy. Therefore, it is advice I would like to share with future students. Always speak up and make people aware of your knowledge and capabilities, if not you will just pass by unnoticed.