Sub Menu Toggle
Andrea Garcia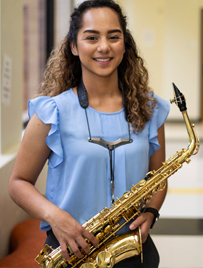 Name: Andrea Garcia
Age: 22
Major: Music Education
Hometown: Pharr, TX 
Why UTRGV?
The primary reason for choosing to attend UTRGV has to be that it is close to home. I had the opportunity to meet with the professor for applied saxophone, Dr. Cynthia Cripps, and having that connection made me feel comfortable in making the decision to choose to attend UTRGV. 
What made you decide on your current major?
As I was about to graduate high school, I realized I was not ready to stop playing my saxophone. I enjoyed making music all too much so I decided to pursue a degree in Music Education. It was not just that I wanted to teach music and become a band director, but I wanted to be able to share the reasons why I enjoy making music. I also wanted to help students enjoy making music and help them make the most out of being in the band program. 
What are your plans after graduation?
I am to graduate in the Fall of 2018. My plans following graduation are to get a job as a middle school or high school band director. However, I do hope to further my education later and earn my master's degree in Music Education or Conducting.   
What are you involved in on and off campus?
During my years as an undergraduate I have had the opportunity to perform in several university ensembles such as the UTRGV Wind Ensemble and the UTRGV Saxophone Ensemble. I have also had opportunities to teach students at local high schools in the Valley. Off campus involvement includes having had the opportunity to perform in concert with the Valley Symphony Orchestra. Another group I have been a part of for the past seven semesters is the Resonance Quartet. This quartet is composed of four undergraduate UTRGV music education majors and have performed at several places such as TMEA (Texas Music Education Association), MTNA (Music Teachers National Association) contest and at high schools around the Valley. 
What is your biggest accomplishment to date?
Being the first in my family to attend college to earn a bachelor's degree must be my biggest accomplishment to date. Everything I have experienced here at UTRGV I may have not been able to do at any other university. 
What advice do you have for future students?
College is what you decide to make out of it. It is about investing four years of your time and efforts that help you set a foundation for your pursued career.