Sub Menu Toggle
Alexandra Mendoza Esquivel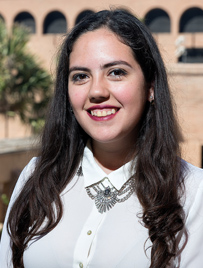 Name: Alexandra Mendoza Esquivel
Age: 22
Major: Graphic Design
Hometown:  Reynosa, Tamaulipas 
Why UTRGV?
I always wondered what it'd be like to study in the U.S. Also, I wanted to live the college experience and become more independent without being too far from home, either. I really enjoy the friendly environment that the UTRGV community has created and I like to live in a peaceful city like Edinburg. 
What made you decide on your current major?
Since I was very young, "creative" is the word people use to describe me. I have a passion for communicating ideas and captivating people in innovative ways. I began college convinced that I would graduate as an engineer, hopping I could use my creative skills in some type of industry. Later, I came to realize that there were many things I wanted to do with my life and that studying engineering was not taking me closer to achieving them. I would always volunteer to help design t-shirts, flyers and even videos for anything that would come up. After a deep analysis of what my future goals were, I decided a graphic design degree was the best option for me.  Since I enjoy sciences as well, I declared a minor in applied math. 
What are your plans after graduation?
Thanks to God, I already have a taste of how working as a graphic designer will be and I am totally in love with it. I seek to continue practicing my career in the future and I would love to stay at UTRGV working full-time as I earn a master's degree. Becoming a design/art or even math teacher would also make me very happy! Also, I would like to enter the wedding/event planning business. Whether I stay close or I move to another city, I know I will be happy to do what I love! 
What are you involved in on and off campus?
Currently I work at the Student Union as the in-house graphic designer. I am secretary of Chroma, and I do all the marketing and graphic designs for them. I am Art Director of the Gallery Magazine and I am running to be a senator to represent the College of Fine Arts in SGA.
What is your biggest accomplishment to date?
I feel very accomplished! I cannot explain the feeling of seeing my work around campus - from advertisements in the newspaper, to posters on the bronc trail and social media! Also, I am proud of being part of the efforts of Chroma to get furniture in the VABL and winning third place in the 2017 president's holiday card contest. But overall, my biggest accomplishment is being happy with the future I am creating for myself! 
What advice do you have for future students?
Find a passion, and work hard for your dreams! Always go the extra mile! Never underestimate what you are good at and definitely get involved! These things have made a huge difference to me.