Sub Menu Toggle
Aleksi Gonzalez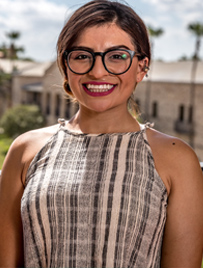 Name: Aleksi González
Age: 20
Major: Communications
Hometown: Brownsville 
Why UTRGV?
I think I chose UTRGV before a student typically would because I attended Brownsville Early College High School, where I began my first year of college the same year as my high school junior year. Having such a large support system my initial years made UTRGV feel like home at the early age of 16 years old. I still wanted to branch out of Brownsville when I graduated high school, so I started doing that by attending classes on the Edinburg campus and later moved there once I found an amazing campus position as a public relations representative. I became a Street Team member under the University Marketing and Communications Department, which became another home away from home.
What made you decide on your current major?
Because I had advanced in my curriculum early, I began taking classes that would count toward my major before I even graduated high school. At 17 years old, as a senior in high school, this became very stressful to dive into classes that would determine my future career path. I chose to take all psychology courses. I really enjoyed learning in these courses, but I wanted something different as my major. Through time of searching and speaking to others, I found that my passion is people. After evaluating what other classes I had taken, what experiences I've gained and hoped to gain, I pursued communication studies as my major and psychology became my minor. These two fit very well together because I learned about why people act and think in particular ways through my psychology courses. Then, I learned how people communicate those thoughts and actions verbally and nonverbally. I am fascinated by how people interact based on the experiences that have molded them.
What do you like most about UTRGV?
The fact that I started my college career so early and graduated so early at the age of 20 has been a privilege and a blessing that I treasure. The mobility and resources that UTRGV has provided by hosting courses on multiple campuses across cities in the Rio Grande Valley, plus transportation, has a vigorous experience that enhanced my time management skills and my dedication. The university also provided me with a student job position that has resembled a professional internship, with brilliant and welcoming mentors that have changed my life. The UTRGV community, including all my professors and fellow peers, have provided me with insight, connections, personal growth, successes and memories that will propel me forward in my life's journey. I am eternally grateful for that. 
What's in your playlist right now?
I am thankful for a song that inspired me to push through my senior year when I was living on my own. The song is titled "After the Storm" by Kali Uchis ft. Tyler the Creator. The video is a colorful story and the lyrics can be applied for anyone's life challenges. It was the creative inspiration for my graduation cap.