Sub Menu Toggle
Victor Bazaldua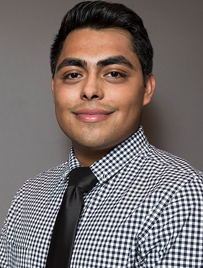 Name: Victor Manuel Bazaldua
Age: 21
Major: Biomedical Sciences
Hometown: San Benito, Texas 
Why UTRGV?
I strongly believe that excellence can only be achieved through relentless pursuit of perfection. With the right attitude, no barriers can deter a person from realizing their set goals. Through those principles, I knew that I would one day secure a spot at The University of Texas Rio Grande Valley. I chose UTRGV because of the excellent reputation it has built over the years and its modernized facilities and resources. There was no better place for me to pursue my dreams. 
What made you decide on your current major?
I decided to major in biomedical sciences because I have always been fascinated with anything related to medicine since I was young. My passion for medical science grew even more when I enrolled in the Health Science Technology program in high school. Later, while doing my clinical rotations at a nearby hospital, I knew I had a passion for occupational therapy. That experience made me choose a specific area in medical science that would equip me with the right knowledge and skills to become an occupational therapist. 
What are your plans after graduation?
My plans after graduation are to seek a job with my degree and impact other peoples' lives positively. I also plan to do more shadowing hours, which will further strengthen and enhance my skills. Later on, I plan to apply for the Occupational Therapy program at UTRGV. 
What are you involved in on and off campus?
On campus, I am currently a math tutor for the ASPIRE program. The best compensation is knowing that I have been able to improve the academic knowledge of others. By engaging with the students that I tutor, I have learned to appreciate my strengths and weaknesses. As a result, the program has helped me grow academically, professionally, and personally. Off campus, I spend my time doing personal automobile repairs and community work, which allows me to give back to society and grow in other aspects of my life. 
What is your biggest accomplishment to date?
Both small and big accomplishments in my life have molded me into who I am today. However, one big accomplishment has been my job as a tutor because it has allowed me to make a difference in the academic life of other students. I have realized that I am capable of helping others grow. These achievements are my driving force and motivate me to become better each day. For this reason, I am grateful for every opportunity that crosses my path. These opportunities are grooming me for a brighter future.
What advice do you have for future students?
My advice for future students is that success is achieved through hard work and getting out of your comfort zones. If you want good grades and a bright future, you cannot sit in your comfort zone and expect to succeed in your academics. Everything you have ever dreamed of is one step outside your comfort zone.