Sub Menu Toggle
Veronica Gaona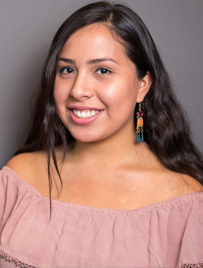 Name: Veronica Gaona
Age: 22
Major: Mass Communication
Hometown: Brownsville 
Why UTRGV?
I decided to attend UTRGV because growing up I would see my sister studying at night and I realized that obtaining a higher education was important for my family. As a kid, I would see my sister juggling school, work, and her day job while my mom worked two jobs in order to make ends meet. Since then, they have continued to influence me to attend UTRGV. I have internalized their rules and values that have made me a better person. I know that they are proud of seeing me look forward in my education, especially at UTRGV where they offer opportunities internally and externally for educational growth. 
What made you decide on your current major?
I always knew that I had to improve my communication skills to conduct successful interviews that would maintain the integrity of people in print. I knew this major would allow me to learn AP style and conduct hands-on assignments, which I was eager to do before I enrolled at UTRGV. I wanted to document people's life stories and understand where they come from and where they've been. 
What are your plans after graduation?
I plan to pursue a master's degree in photography. My goal is to be a full-time graduate student and have a part-time work-study job, teacher's assistant or a fellowship that will help me academically. My long-term plan is to open up a small photography school for ages 15-45 in my hometown. 
What are you involved in on and off campus?
On campus, I'm an assistant photographer for the Office of News and Internal Communications. My role has given me the opportunity to learn to photograph with an editorial touch while still projecting my photographic style. It has showed me that a photo cannot stand alone and that writing skills are vital to enhance the content of images. In my spare time, I volunteer at Carlotta K. Petrina Cultural Center as a gallery assistant, and I have spearheaded two photography exhibits. I also form part of the Brownsville Historical Association in which I learn about local history and cultural arts. Every other Friday I also enjoy being part of a themed social bike ride called Bici the City. 
What is your biggest accomplishment to date?
My biggest accomplishment to this date would have to be that I'm enrolled at UTRGV and only have one more year to go until I get my bachelor's. Throughout my higher education I have been on the President's List, Dean's List, and recently I was awarded the Ragland-Vaughan Scholar Communication Scholarship. I have also given myself the opportunity to publish my work in different platforms like El Nuevo Heraldo, Gallery: A Literacy and Arts Magazine, UTRGV News, and exhibit at various local galleries. 
What advice do you have for future students?
Ernest Hemingway once wrote, "There is nothing noble in being superior to your fellow man; true nobility is being superior to your former self." Thus, I implore my contemporaries to strive for individuality and sincerity in all of their aspirations.