Sub Menu Toggle
Valeria Contreras Herrera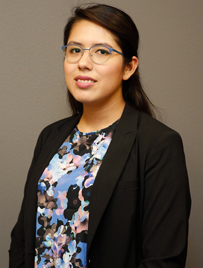 Name: Valeria Contreras Herrera
Age: 21
Major: Mass Communication – PR/Advertising
Hometown: Reynosa, Tamaulipas, Mexico 
Why UTRGV?
I decided to attend UTRGV because the Mass Communication program here is way different than the ones offered at the Mexican universities I was interested in. In comparison, I found the UTRGV program fit my purpose and interests better. What I love most about UTRGV is that I feel at home. Even though we are in the U.S., I still get to speak Spanish, and the culture is not so different from that of the Mexican border cities. I know that's something I would not be able to find at any other university. 
What made you decide on your current major?
The influence of mass communication is all around us and, in a way, it influences our daily lives. I wanted to know more, and I wanted to be part of what was happening behind TV shows, news, billboards, and communication campaigns. 
What are your plans after graduation?
I'd like to celebrate by traveling to either the city of Prague, a tour through Europe, or visiting Japan would be great. Workwise, I intend to apply at publicity agencies in Michigan. Michigan is a great state I would be more than happy to live in. But, in the end, my dream job is to become a publisher at a publishing house. 
What are you involved in on and off campus?
I currently work at the UTRGV Student Union as marketing assistant where I help coordinate events, design, analyze and curate their social media. Anyone who has gone to Student Union events is likely to have seen me taking and asking for pictures. 
What is your biggest accomplishment to date?
Becoming a marketing assistant at the Student Union has been very rewarding for me. Even though it can get stressful at times, just seeing all the students having fun at the events, sharing it on their social media, and knowing that I worked on an event that made their day a bit more exciting makes up for any stress. 
What advice do you have for future students?
Use the tools the university provides you and manage your time by getting yourself a calendar or a planner. The university offers its students many tools – tutors, a writing center, a counseling center and a food pantry – for success. Also, talk to your professor. Communicating with professors themselves is the best tool a student can have. They are very welcoming and helpful. Finally, keep track of time and due dates. Even if you do not start the day the assignment is given, research what you'll need. That way, you can see how long it would take you to finish the assignment.