Sub Menu Toggle
Sophia Rodriguez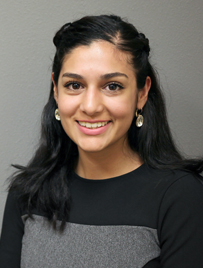 Name: Sophia Rodriguez
Age: 20
Major: English Education with Teacher Certification (grades 7-12)
Hometown: Los Fresnos, Texas 
Why UTRGV?
I chose to attend UTRGV because I believe it reflects most of the values I hold as a person. UTRGV supports its students, encourages community participation, and provides a higher education that will help its students excel and be prepared for any given profession. 
What made you decide on your current major?
My passion has always been teaching. I truly enjoy helping others learn strategies and skills that will ultimately help them reach their academic goals and succeed independently. I love teaching students and anyone else that needs assistance, but something I admire more than teaching is the satisfaction of seeing the people I have helped improve and truly gain something out of my help. 
What are your plans after graduation?
I have just completed and submitted my application for graduate school: MA in English Studies. With my master's degree, I aim to teach English Dual Enrollment and AP courses in high school or teach English in a community college. After I graduate from my master's program and have a stable career, I will attend an American Sign Language interpreter school to obtain my ASL certification and become an interpreter as a side job. Both of these goals reflect my passion for teaching and helping others. 
What are you involved in on and off campus?
I am currently student teaching at Los Fresnos CISD, where every day I learn firsthand better ways and practices of teaching. I am able to experience teaching before I am even a teacher, and for that, I am very thankful. 
What is your biggest accomplishment to date?
My greatest accomplishment has been developing my own strength and drive throughout the years. With this mental dedication, I have been able to manage jobs such as substituting, tutoring English and American Sign Language, and still earn A's in almost all of my 18 hours per semester. At the age of 20, I will be graduating with a BA in English with a Teacher Certificate (grades 7-12) and hopefully be accepted into the master's program of my choice. Therefore, with a strong dedication, I know I can achieve anything else I set my mind on. 
What advice do you have for future students?
My advice for future students is to focus on becoming the best person you can be. Every day is a brand new day, giving you a brand new chance to study harder, learn more, try your best, and pursue your passion. If you focus on improving yourself every day and focus on giving your entire effort to achieving your goal, the reward and satisfaction that you will receive will truly bring happiness to your heart.