Sub Menu Toggle
Naomi Dee Lucio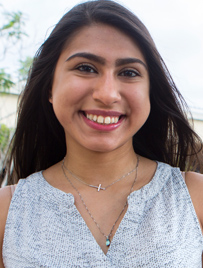 Name: Naomi Dee Lucio
Age: 20
Major: Exercise Science
Hometown: Brownsville 
Why UTRGV?
I chose to attend UTRGV because it was close to my loved ones and I had earned a full scholarship to this university. By having this scholarship, it put a lot less pressure on me and my parents to find a way to pay for school. I was able to get the full college experience by living on campus, while still being only minutes away from home. My family has helped me get through the toughest semesters and without their constant motivation and love I would have not made it this far. 
What made you decide on your current major?
I changed my major twice, before I knew I had picked the right one for me. I knew I wanted to be a physical therapist since I was in high school, but didn't know how I would end up there. I took biology courses, but was not intrigued. The first class that made something spark in me was my physiology of exercise class; this is when I knew I had chosen the right major for me and became so excited to learn more. Following that class, I had several other classes that continued to fire that spark and I haven't wanted to stop learning ever since.
What are your plans after graduation?
After finishing my bachelor's degree, I will be pursuing a master's in exercise science at UTRGV. This will hopefully increase my likelihood of getting into a Doctorate of Physical Therapy program in Texas. I am aiming to specialize in sports medicine and start practicing before the age of 30. 
What are you involved in on and off campus?
I was part of the MBRS-RISE (Minority Biomedical Research Support-Research Initiative for Scientific Enhancement) program here at UTRGV. This program provides students with great research opportunities while completing an undergraduate degree. I helped my mentor, Dr. Merrill Funk, conduct several studies and was also able to form new studies alongside other student research assistants.  
What is your biggest accomplishment to date?
My biggest accomplishment to date would have to be receiving my bachelor's degree this summer by age 20. My parents always set high standards for me while growing up, but not once did I believe this would happen to me. I have always found my greatest satisfaction is hearing my parents say they are proud of me. 
What advice do you have for future students?
Throughout my college experience there are several things that I would do different if I had the chance, one being not procrastinating. I survived my final year of college while having two jobs, taking 19 hour semesters and still managing to have a life outside of school. I credit this to being able to manage my time accordingly. Although there were times where I wanted to be lazy and slack off, I asked myself "Is this going to help me reach my goals?" The answer was always "no". The most crucial skill to have throughout college is time management. In the long run it will help you be better prepared and a bit less stressed.