Sub Menu Toggle
Mario A. Gonzalez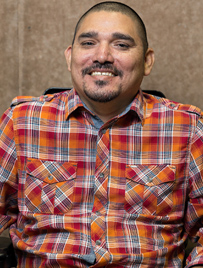 Name: Mario A. Gonzalez
Age: 37
Major: Civil Engineering
Hometown: Pharr
Why UTRGV?
I chose UTRGV for several reasons. One, its location – the Edinburg Campus is approximately a walking distance of five minutes away from my house. In 2005, I fell from a ladder while working and unfortunately that accident left me with limited mobility in my body. I now use a power wheel chair to move around. With UTRGV being so close by, I travel in my wheel chair to campus. Attending UTRGV also allows me to be close to my family members who live in the Valley and across the border. In addition, UTRGV has very professional faculty in my field of study and an Accessibility Services office, which assists students with disabilities by providing special accommodations they might need to be successful.  
What made you decide on your current major?
Civil engineering, which has to do with design, construction and maintenance of roads, highways, bridges, canals, dams and buildings, is the second oldest engineering discipline with a history back to 4000 to 2000 BC.  As a civil engineer, I will have the opportunity to help create a better infrastructure in our cities, states, or nation by adapting to the change and needs of our society. 
What are your plans after graduation?
After graduation, I plan to get certified and licensed by the state of Texas as a civil engineer. I see myself working with a civil engineering firm or establishing my own firm. 
What are you involved in on and off campus?
Off campus I am a full-time dad of four great kids. I am also an architectural drafter. I work for a person who gave me the opportunity to be part of his small drafting company, which allows me to work from home and be able to be with my family.
What is your biggest accomplishment to date?
My biggest accomplishment has been continuing my education after my accident. My wife was told by doctors that I was going to spend the rest of my life in bed needing breathing assistance. After spending almost a year at a rehabilitation center in McAllen, I began achieving minor physical improvements and decided to continue my education. I researched and learned that there were state agencies that helped persons in my situation get a degree and eventually return to work. With that assistance, I completed a certificate degree as a computer support specialist and an associate degree in computer aided drafting and design architectural drafting.  Now I am more than half way in completing by bachelor's degree. It has all been possible with the support of my wife and kids and other great people who have helped me along the way.

What advice do you have for future students?
When it comes to being a successful student, my advice is to never miss class, always take notes, turn in your assignments on time, and review for your exams. Also, ask for help if you don't understand something from the subject that is being covered in your classes.