Sub Menu Toggle
Maria Guerra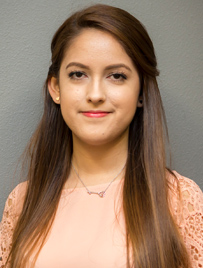 Name: Maria Guerra
Age: 20
Major: Pre-Nursing
Hometown: Roma 
Why UTRGV?
I chose to attend UTRGV because it offered the right major I was looking for and it was close to home. UTRGV also offers so many opportunities like scholarships, study abroad, research opportunities and a great student to professor ratio. In addition, the faculty are very caring about their students.    
What made you decide on your current major?
I knew I wanted to become a nurse since I was a little girl. My dad works at a hospital, so I grew up around nurses and they were always so helpful and kind. They inspired me to want to be just like them, helping anyone they could with a smile and an open heart.
What are your plans after graduation?
After I graduate from UTRGV I definitely want to stay and obtain my master's degree. Then, I would like to do some traveling with my family as I have the world to thank them for.   
What are you involved in on and off campus?
I currently work as an orientation leader for UTRGV. In that role, I give tours to future students, help new students with admissions questions, and inform future students on what to expect as a new college student. I also attended a leadership conference last year in Denver, Colorado as part of the National Orientation Directors Association that helped me further obtain leadership skills.   
What is your biggest accomplishment to date?
My greatest accomplishment to date has been having the opportunity to work as a senior orientation leader for the Office of Recruitment and Scholarships. Working as a senior orientation leader has not only let me assist entering students but it has also helped me be more comfortable and confident when talking to people, which is an important skill to have. I'm also proud to be a first-generation college student.      
What advice do you have for future students?
Some advice I would like to pass on to future students would be to follow your dreams no matter how big they might be. And, to not let life be anything less than what you've imagined it to be.  I would advise students to never stop working for their dreams even if they have doubt and, instead, think about the amazing outcome once your dream is realized.