Sub Menu Toggle
Karla Lopez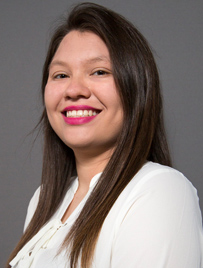 Name: Karla Mariana Lopez
Age: 22
Major: Interdisciplinary Studies–Bilingual Education Concentration
Hometown: Harlingen 
Why UTRGV?
When I was in high school, I met with a recruiter for UTRGV (then UTPA). He was so welcoming and positive about the university, so I felt like it offered a great atmosphere to continue my education. Since then, the professors I have met have been so helpful in guiding and teaching me to reach my full potential and be successful. 
What made you decide on your current major?
I wanted to be a positive influence for my future students. As a teacher, I want my students to appreciate education and reach their full potential. The reason I am focused on bilingual students is because I consider it important to teach students the value of maintaining their native language and learning a second language. Dr. McHatton, dean, College of Education and P-16 Integration; Dr. Schall, chair, Bilingual and Literacy Studies; Dr. Guajardo, executive director, B3 Institute; Dr. Esquierdo, Bilingual Education Student Organization (BESO) adviser; Dr. Whitacre, BESO adviser; and my professors Mrs. Buhidar, Dr. Diaz, Dr. Hinton, Mr. Bauza, Dr. Mayans-Robles, Dr. Pecina, Dr. Neumann and Dr. Musanti, all made me feel that teaching bilingual students was the right path for me. I have such a positive attitude toward my career because of these role models and I strive every day hoping to leave the same motivation in my future students as they have taught me. 
What are your plans after graduation?
I plan to look for teaching positions in the RGV to benefit our community, and continue my education and study for a master's degree in counseling. 
What are you involved in on and off campus?
I started a branch of BESO on the Brownsville Campus and was elected as its co-president.  I wanted to offer the same opportunities that BESO offered to students in Edinburg. We have attended conferences for professional development and participated in community service to help those around us. 
What is your biggest accomplishment to date?
One of my greatest achievements was being able to attend conferences such as the Texas Association of Bilingual Education and the National Association of Bilingual Education because of my participation in BESO. I got to know the executive boards and hear about their philosophies on education. They were so inspiring with their knowledge, I felt honored they were willing to share with me, a member of the future generation. In addition, I received advice from other teachers nationwide. 
What advice do you have for future students?
I would recommend joining an organization that focuses on your major. It helps give you different perspectives from people who are learning in the same area and may help you see the material in a different light. You can share ideas with each unique individual, which can possibly help you in your future career.