Sub Menu Toggle
Joel Rios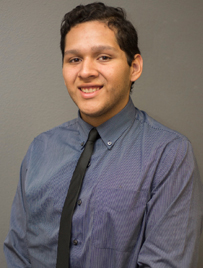 Name: Joel Rios
Age: 20
Major: Biology
Hometown: La Villa, Texas 
Why UTRGV?
The reason why I chose UTRGV was because it is near home, and it shares the culture that I was raised in. While deciding where to attend, my older sister was attending UTPA and I felt it would be best to attend UTRGV since I already had family here. UTRGV also has great opportunities for students to grow and become successful. 
What made you decide on your current major?
As a little kid, I was so interested in doing experiments and finding new things. As I grew older I learned more about science and how we can use it to help people. Throughout middle school and high school, science classes were always my favorite and the ones I looked forward to. I was also involved in science clubs during high school and this also helped me decide what I actually wanted to study in college. Now that I am UTRGV, I can say that I made the right choice. 
What are your plans after graduation?
My plans after I graduate are to become a high school teacher, and later apply to the Physician Assistant Studies Graduate Program at UTRGV. I really enjoy helping students learn and guiding them to become successful. 
What are you involved in on and off campus?
The second semester of my freshman year I became an orientation leader for the university. This job has been the biggest highlight of my college career. In this job, I had the opportunity to help entering freshmen transition from high school to college. Currently, I am a tour guide for the university, and this job is so exciting and fun because we get to show off our university to students from other schools and the community. 
What is your biggest accomplishment to date?
During high school, I was part of a dual enrollment academy, Dual Enrollment Medical Science Academy, which allowed me to get an associates degree in biology during high school. My biggest achievement has been attending college. I am a first-generation student and it makes me so proud that I made the decision to extend my knowledge by going to college. Another achievement that I have had at UTRGV is that I have made the Dean's List several times, and I'm proud of this because it shows the hard work I put into my work. 
What advice do you have for future students?
Don't be afraid to talk to people and make new friends. I can tell you that I didn't talk to anybody my first semester at UTRGV, but then I decided that I should get out of my comfort zone. I can tell you that it has been the best decision that I have made. I have met so many great people, including the greatest friends that I could have asked for. Get out there and don't be afraid to explore what UTRGV has to offer.