Sub Menu Toggle
Jimena Rivera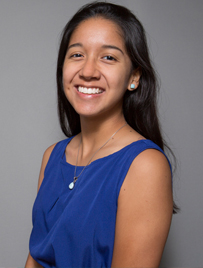 Name: Jimena Rivera
Age: 21
Major: Social Work
Hometown: Matamoros, Tamaulipas, Mexico 
Why UTRGV?
UTRGV was my university of choice to pursue my degree because I was able to have the college experience while still living at home. What I like about UTRGV is its student to professor ratio, the variety of events and opportunities offered to students, and the beautiful campus. It is also a blessing that UTRGV is so helpful to international students like me. This is something that is not found at other universities simply because they do not have the experience that comes from being among a unique mix of cultures.  
What made you decide on your current major?  
During high school, I did not know what career I wanted to pursue, other than that I knew I wanted to help others. My mom was a big help to me during my senior year as she helped me focus on several career options. After reading about social work, I knew I wanted to find out more about this profession. My mom and I visited several social workers to ask them questions and see what they did. After the third visit, I was hooked.
What are your plans after graduation?
God willing, my expected graduation date is May 2018. This spring semester I look forward to taking part in an internship in my chosen field of study. 
What are your plans after graduation?
With the experience I gain from my internship, I would like to work for an agency such as Child Protective Services, but this would be after I get my Bachelor of Social Work license. After some work experience, I plan to obtain a master's degree in social work as well. 
What are you involved in on and off campus?
In addition to being a full-time student, I work as a part-time English instructor at Veterans Upward Bound. This program exists to help Cameron County veterans fulfill their educational goals. Working at VUB has been an amazing experience and, even though my role is to teach, I have learned immensely. I am also a leader for a First Baptist Church's youth group, where I get to influence students and encourage them to grow in their faith. I am also doing an internship at the Friendship of Women, an agency located in Brownsville, that aids victims of domestic abuse. 
What is your biggest accomplishment to date?
Maybe not the biggest, but definitely the most rewarding, accomplishment I've had was receiving a challenge coin from my employer. It reminds me every day of the program values – dedication, input, and service. 
What advice do you have for future students?
To future students, and even to current ones, my advice is to learn to balance different responsibilities – school, family and work. Learn time management, make a schedule, map out times to study, and complete your homework. All of this is essential to keeping up with one's workload while still enjoying each area of involvement.