Sub Menu Toggle
Ismael Rocha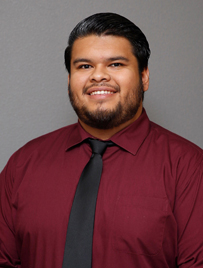 Name: Ismael Rocha
Age: 22
Major: Mechanical Engineering
Hometown: Pharr, TX 
Why UTRGV?
UTRGV gave me the opportunity to study engineering while still allowing me to stay here (Rio Grande Valley) with my family. The quality of education offered here is great, especially within the engineering program where the faculty is highly invested in the education of their students. 
What made you decide on your current major?
I have always been attracted to math and science since I was a kid. At first, I planned to go to medical school and become a doctor, but I became fascinated with how things work and was eventually introduced to the discipline of engineering. Both my parents have some background in the field but never had the opportunity to receive a formal education in it, but they were able to share that interest with me.
What are your plans after graduation?
Once I graduate I plan on getting some experience working in the field for a couple of years. In the future, I would like to go back to school and pursue a degree in biomechanical engineering. 
What are you involved in on and off campus?
I have been working with the Office of Recruitment and Scholarships since 2014 as both an orientation leader and a tour guide for the university. As an orientation leader, I've had the opportunity to help students, who are just starting their college careers, with the admissions process to registering for classes. As for the tour guide part of the job, it has helped me become more comfortable speaking in front audiences and also granted me the opportunity to meet and show our university to various deans from other universities, representatives from the Bill and Melinda Gates Foundation, and many other great people. 
What is your biggest accomplishment to date?
My parents did not have the same opportunities I have, but they always instilled in me the idea that, as cliché as it may sound, "knowledge is power." Becoming the first in my family to attend the university not only makes them proud, but it has to be my biggest accomplishment thus far. Another accomplishment is becoming a senior orientation leader. I could not thank my supervisors enough for their support and confidence in me. 
What advice do you have for future students?
The advice I have for future students is to not be afraid to get out there and learn as much as possible. Even if it is not related to your career, it never hurts to learn something new. Also, the more skills you have the better prepared you will be. Never be afraid to ask questions when you are uncertain about anything.