Sub Menu Toggle
Isaac Garcia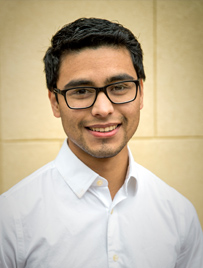 Name: Isaac Garcia           
Age: 22
Major:  Engineering Technology
Hometown: San Benito 
Why UTRGV?
I chose UTRGV because my dean and professors have all cared about my success. Their willingness to provide me the best possible help, internships and learning opportunities has made me enjoy going to class, even at 8 a.m. I'm not sure you will find more welcoming and caring faculty and staff than those here at UTRGV. 
What made you decide on your current major?
As a young boy I always watched or helped my dad out with fixing things. My dad encouraged me to watch how he solved problems around the house and then listened to how I might solve them. This helped me realize I like thinking about design, how things should work and other ways it could work. My desires have been met and exceeded in my courses here at UTRGV. I've worked with CAD software to design mechanical parts and buildings, I helped build a functional shutdown system for Brownsville PUB's wind turbine, I've worked with industrial machines to create functioning objects from raw materials and I learned about real-life experiences from my professors. My degree is one of a kind and I cannot see myself in any other degree than engineering tech.
What are your plans after graduation?
Currently I am interning with Ohmite, a national manufacturing company. This opportunity is providing me with a lot of experience and I would love to continue with Ohmite for the next few years. However, I'd like to continue my education and receive a master's degree in engineering economics if possible. 
What are you involved in on and off campus?
I have two job positions here on the Brownsville campus: Student Union as a student facilities employee and Residential Life as a resident assistant. I'm also in two campus organizations: Campus Programming Board and Residence Hall Association. 
What is your biggest accomplishment to date?
My greatest accomplishment at UTRGV is having the opportunity to work for amazing departments. The connections and friendships I've made with my co-workers and staff are priceless and are worth more than any degree. 
What advice do you have for future students?
I'm not the best or brightest person but my willingness to learn from mistakes, to learn more than I need to know and being kind has helped me grow as a student, employee and individual.