Sub Menu Toggle
Florentino Saenz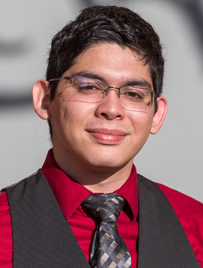 Name: Florentino Saenz
Age: 20
Major: Biomedical Sciences
Hometown: Brownsville 
Why UTRGV?
I chose UTRGV because of the opportunities it provided me. I was able to become part of both the University Scholars, which provides a full ride to UTRGV, and the A-Prime Time early acceptance program which allows me to graduate in three years with acceptance into a partnered medical school. I feel like this combination not only saves both money and time, but it allows me to go into medical school completely debt free, something I wouldn't have been able to accomplish had I gone to other colleges. 
What made you decide on your current major?
I decided on biomedical sciences because of my desire to become a doctor and give back to the field that gave me the greatest gift imaginable, a younger brother. My brother was a premature birth with complications that nearly killed him. Despite constantly spending his early childhood in and out of hospitals, he is a perfectly healthy boy now. Because of this I feel like I have a debt to pay to the people that gave my brother an opportunity at life. Hopefully one day I'll be able to do the same for someone else. 
What are your plans after graduation?
I plan on going through with the assured acceptance offered by the A-Prime Time program by going to either McGovern Medical School in Houston or the UT Medical Branch at Galveston and earning my MD at either of these medical schools. I am interested in specializing in neurology or neurosurgery, however I don't feel I have enough exposure with any of the specialties yet to decide. 
What are you involved in on and off campus?
I have been involved in the Student Government Association for the past three years. I do shadowing hours at Valley Baptist Hospital to become more familiar with the field. I regularly volunteer at The Rio at Fox Hollow nursing home to work on my interpersonal skills. I work on campus as a chemistry tutor with the Office of Health Professions. I am also currently part of an IRB approved research study working with Drs. Hongxing Lu and Saraswathy Nair to observe the effect of different types of interventions of salivary stress marker levels. 
What is your biggest accomplishment to date?
My biggest accomplishment would be making it through the A-Prime Time program and gaining my acceptance into medical school. While the program did streamline the medical school application process, the fact that the program condensed a four-year degree into three years while requiring students to prepare for interviews and the MCAT during the second year made it a challenge to juggle academics, volunteer work, and extracurricular activities while maintaining a competitive application. This lack of time and the failures that came with it forced me to adapt and grow in order to persevere. 
What advice do you have for future students?
My success isn't something I can take credit for. I have had a great deal of support from friends and family that have acted as mentors for me. From my first year struggling with the basic sciences to the months spent studying for the MCAT, I was never truly alone. Support networks like these gave me the strength to get back up after every failure, allowing me to learn and adapt until I succeeded.