Sub Menu Toggle
Eric A. Silva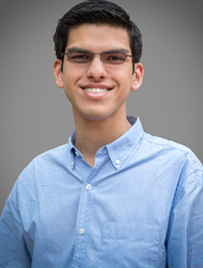 Name: Eric A. Silva
Age: 21
Major: Multidisciplinary Studies
Hometown: Brownsville 
Why UTRGV?
I chose to attend UTRGV because of the many educational opportunities they provided, and to continue to serve my community through various organizations on and off campus. 
What made you decide on your current major?
Ever since I was young, I've had a passion for technology and education, but it wasn't until I was in high school that I found that there was an entire field dedicated to these two interests. While attending The Science Academy of South Texas I had the opportunity to work with several teachers who sparked my interest even more on how technology can have a positive impact in the classroom. At UTRGV I chose to pursue the multidisciplinary major in the College of Education and P-16 Integration that offers my minors of educational technology and technology education and corporate training. I also have a minor in computer science. 
What are your plans after graduation?
My plan after graduation is to continue my education with a master's degree in educational technology here at UTRGV. Additionally, I hope to become a staff member of UTRGV and be a part of our mission that will transform the Rio Grande Valley. 
What are you involved in on and off campus?
On campus, I am a senator-at-large for our Brownsville campus and chair of the Senate for the Student Government Association. I am also involved in university committees, such as the Strategic Planning Committee and Ring Ceremony Committee. I also serve as a committee member of the South Texas Independent School District Educational Improvement Council. In addition, I work on campus as a course developer at the Center for Online Learning and Teaching Technology. Off campus, I also work part time for the Brownsville Convention & Visitors Bureau as their website and social media manager. 
What is your biggest accomplishment to date?
My biggest accomplishment was being recognized by the education technology company Blackboard as the only student in the country to be selected as a Blackboard MVP. Blackboard is used for online courses, training and notifications at UTRGV. As a Blackboard MVP, I serve as an ambassador for the product by sharing ways to integrate it into the classroom. I have also had the opportunity to attend Blackboard national conferences in Washington, D.C., Las Vegas and New Orleans.   
What advice do you have for future students?
Get involved! Being involved in student organizations and with the university in general will allow you the opportunity to meet and work with amazing people and will also help our university prosper. This involvement will help you grow personally and succeed academically.