Sub Menu Toggle
Dulce Marisol Sosa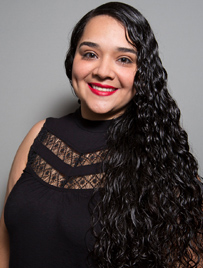 Name: Dulce Marisol Sosa
Age: 21
Major: Interdisciplinary Studies - Early Childhood-6th Grade Bilingual Education  
Hometown: Brownsville 
Why UTRGV?
My family has been my driving force throughout my undergraduate career, and I couldn't imagine myself getting this far without them. UTRGV was the perfect university for me because it gave me the opportunity to stay in my hometown with my family, while receiving a high quality education. All of my professors have been amazing mentors and have shown they genuinely care for their students and love their profession. 
What made you decide on your current major?
I love to learn, and I believe that one can truly never acquire enough knowledge. As I love learning, I want to instill a love for learning in others. I chose to pursue bilingual education because bilingualism is a great skill to possess in today's diverse society. I want to encourage my students to embrace multiculturalism and assist them in reaching their full potential not only as students, but as citizens. My major is simply my passion, and I can't see myself as anything other than an educator. 
What are your plans after graduation?
After I graduate this fall, I plan to start my career as an elementary school bilingual teacher and advocate for bilingual education. I would like to teach here in the Rio Grande Valley because it would be a great opportunity to give back to the community that gave so much to me. Although I am not too sure what exact program yet, I plan to further my education by pursuing a master's degree in the field of education.  
What are you involved in on and off campus?
I am a member of BESO, the Bilingual Education Student Organization on campus, which has provided me many opportunities for volunteer work and professional development in my field of study. I have worked as a substitute teacher for the Brownsville Independent School District for about two years now. I love this job because it has provided me with great teaching experiences as well as helped me grow and develop interpersonal skills. 
What is your biggest accomplishment to date?
My biggest accomplishment is being who I am today and knowing that I am making my family proud. I am a first-generation college student with a GPA of 3.94 who will graduate this fall. I know my parents couldn't be prouder, and that means the world to me.                   
What advice do you have for future students?
Throughout your journey toward earning your degree, you'll realize how much change comes along with it. Although change may be frightening, you have to learn to embrace and welcome it. Do not be afraid to make mistakes, because we all make mistakes. However, you should learn from your mistakes and always keep your goals in clear focus. Remember, it's not how many times you fall that will define you, but how many times you get back up.