Sub Menu Toggle
Doris Vanessa Cedillo Clemente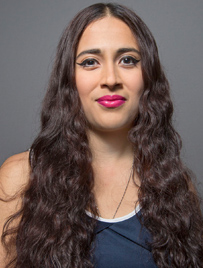 Name: Doris Vanessa Cedillo Clemente
Age: 23
Major: Music with Teacher Certification (Voice)
Hometown: Matamoros, Tamaulipas, Mexico 
Why UTRGV?
UTRGV was my first option since I realized that they offer a degree in music education. It is very close to my hometown, Matamoros, so I can visit my family frequently.  UTRGV provides scholarships for talented students and has a strong cultural diversity along with a very supportive Office for International Students. Moreover, the music department has outstanding faculty with a very competitive level and gifted students.    
What made you decide on your current major?
I used to sing rancheras as a hobby since I was a little child. At the age of 13, I joined the children's choir at San Juan Siglo XXI Music Conservatory, but I never took the field seriously until I began high school at that same institution, where I later studied to earn a diploma in music. My passion toward classical music increased and stayed permanent in my life.  Since then, I knew I wanted to become an opera singer and teach others about this beautiful style.  
What are your plans after graduation?
My short-term plans are to get a master's and doctorate degree in opera and vocal pedagogy. I would also like to sing in the best opera companies of the world, meet people, and teach music lessons. My long-term goals are to create my own music school to help future generations accomplish their dreams of being musicians and provide scholarships.
What are you involved in on and off campus?
I am voice and piano instructor at the UTRGV Music Academy; a buddy leader in International Admissions and Student Services; a proud member of the UTRGV Bravo Opera Company and Master Chorale; and I sing in events that the Office of International Students organizes. I have a music talent scholarship and a scholarship from the Episcopal Church of the Advent where I sing in a choir as soprano. I also sing every year for the Mr. Amigo celebration at UTRGV and Matamoros. In addition, I have performed at the Festival de Otoño in Matamoros and have had the honor to sing both the American and Mexican National Anthems for the American Consulate in Matamoros. This year, I also was selected to attend an opera festival at San Luis Potosi.
What is your biggest accomplishment to date?
My biggest accomplishment has been to represent UTRGV in Italy at the music summer program, "Bassi Brugnatelli Symposium," where I had the opportunity to sing as soloist and in an ensemble at museums and in a palace built in 1630. I couldn't have done it without the support of my music professors Dr. Kenneth Saxon, Dr. Daniel Hunter-Holly, and my church family. 
What advice do you have for future students?
The word "impossible" is just a fantasy created by man. The word "possible" is a reality – faith, dreams, people who love you, the reason why you live and your purpose, everything is in that powerful word. Always trust yourself even if no one is there to support you. Be an inspiration to others, be a motivator, and work hard to make your dreams true.