Sub Menu Toggle
Desiree Marie Flores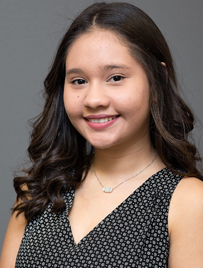 Name: Desiree Marie Flores
Age: 21
Major: Biology
Hometown: Corpus Christi, Texas 
Why UTRGV?
UTRGV was unlike any school that I visited when choosing the university I wanted to go to. Most people overlook what UTRGV has to offer. As a junior in high school, I was told UTRGV was getting a medical school, and that's what really grabbed my attention. UTRGV has so many programs and opportunities, it felt necessary to come here, especially being so close to my hometown of Corpus Christi. 
What made you decide on your current major?
I have always been interested in the health and medical field to help others. As a future healthcare provider, I would be interested in looking into preventative actions instead of treatment. I think it's much more important to take action to prevent medical illness rather than treat them. There are some that are less fortunate and not able to receive proper medical care and I believe it is really important to help and give back to my community in this way. 
What are your plans after graduation?
I plan to further my education and get into a master's program. I plan to shadow medical professionals to gain experience in the field as a scribe. I also plan to shadow in another country with the Atlantis Fellowship Program, where I plan to have fun and learn a lot in another country. 
What are you involved in on and off campus?
I am involved in the Campus Programming Board, I have served as vice president for memberships and secretary for Delta Zeta Sorority, and was the external vice president for the Pre-PA Society. I enjoy doing community service to help our school's food bank and our local highway cleanups, and many marathons around the RGV. I also enjoy working at the USS Lexington in Corpus Christi during the summer and winter breaks. 
What is your biggest accomplishment to date?
My biggest accomplishment to date would be receiving my associate degree before I received my high school diploma. I went to an early college high school and our college graduation was two weeks before our high school graduation. I was very blessed to have gone to a school that offered this amazing opportunity. 
What advice do you have for future students?
My advice to future students would be to get involved! As a freshman, I joined a club that changed my life, and I met people that I know will always be there for me. I would also recommend students join an organization and get involved on campus ­ – go to basketball games, midnight madness, and just wait in line for a free T-shirt or hot dog! Have fun and live the college experience, but always remember when it's time to settle down and study for that test. Time management and prioritizing are very important in doing well and having fun at college. Always take a deep breath and everything will be alright!