Sub Menu Toggle
Cristopher A. Perez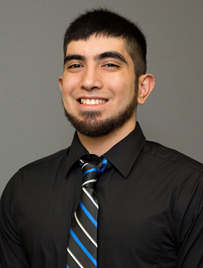 Name: Cristopher A. Perez
Age: 21
Major: Criminal Justice
Hometown: Port Isabel 
Why UTRGV?
I chose UTRGV/UTPA because I wanted to go to a university that was close to home, but at the same time not too close, since I wanted to learn how to be on my own. Another reason I chose this university is because of the atmosphere. When I came to visit everyone was so friendly and willing to help. 
What made you decide on your current major?
Going into my senior year at Port Isabel High School, I really did not know what I wanted to study. It wasn't until I took a class called Forensic Science/Law Enforcement that I found out what I liked. The teacher I had for that class happened to also be my high school football coach – Mike Royce. I told Coach Royce I wanted to teach and coach and he told me I could do both, so I decided to pursue a major in criminal justice with a minor in kinesiology. Studying criminal justice, I have learned that it offers many different career opportunities and it also encourages you to look at both sides of police/public encounters. 
What are your plans after graduation?
I plan to go into teaching and coaching for a few years while I pursue my master's degree. My ultimate career goal is to be a college professor at any university in the United States. 
What are you involved in on and off campus?
I am currently involved in a multi-cultural Greek organization called Beta Xi Chi and I volunteer each summer to coach basketball in my hometown. In the past, I participated in the intramural sports offered on campus. 
What is your biggest accomplishment to date?
My biggest accomplishment to date has been being a positive role model to my younger brother and to the pre-school students I help teach at my job as an assistant pre-school teacher at the UTRGV Child Development Center. I've been able to build such great relationships with my students and see the impact I can have on them. 
What advice do you have for future students?
Go in with a plan and study what you love because, at the end of the day, the degree you choose can determine the career path you decide to follow. Also, learn to manage your time because in college a lot of different obstacles will be thrown your way so you have to learn how to successfully manage it all. Finally, enjoy your years in college because they will fly by faster than you think.