Sub Menu Toggle
Clarissa De La Fuente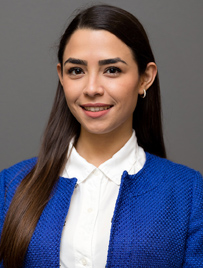 Name: Clarissa De La Fuente
Age: 22
Major: Communication Sciences and Disorders
Hometown: Mission 
Why UTRGV?
UTRGV not only offers a high quality education, but also has the degree program for the career I want to pursue. I found a job that I love at the university that allows me to have a productive balance between work and studying. The opportunities UTRGV offers to its students are unique and countless.  
What made you decide on your current major?
My interest started with my cousin Andrea, who has autism. Autism can affect language development and communication. Communication disorders is the perfect field for me to pursue to help children like Andrea learn how to communicate and develop better. 
What are your plans after graduation?
After graduation I plan on pursuing a master's degree. My biggest goal I want to accomplish is to establish my own clinic where I will help children with special needs. 
What are you involved in on and off campus?
Off campus, I work at the community garden at UTRGV Edinburg where I grow and harvest fresh produce for the students who rely on the UTRGV Student Food Pantry. On campus, I work for the UTRGV Dean of Students as program coordinator for the Student Food Pantry at both the Edinburg and Brownsville campuses. As coordinator, I help organize food drives, help facilitate donations to the pantry and oversee other pantry volunteers. 
What is your biggest accomplishment to date?
This semester I accomplished my goal of making it onto the Dean's List. Also, as the Student Food Pantry coordinator for Edinburg and Brownsville, I am proud to have been appointed to such a responsible role at the age of 22 and feel highly gratified to play a role in providing food to students in need so that they can meet their goal of finishing college without hunger. 
What advice do you have for future students?
Dreaming about your goals is the first step to being great but you have to have a plan and work for it. Don't let anyone bring you down, and remember you are the only person that can prevent you from achieving your goals. It's okay if you feel tired or stressed, but keep going, because at the end everything will be worth it.