Sub Menu Toggle
Carla Garcia Terry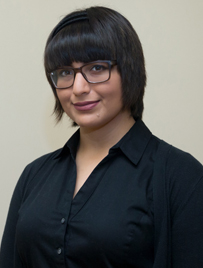 Name: Carla Garcia Terry
Age: 20 years old
Major: Psychology, minor in Medical Humanities
Hometown: Lima, Peru 
Why UTRGV?
I came to UTRGV after getting my associate degree at the College of the Mainland in Texas City. One of my family members used to study here, so I decided to apply to UTRGV after doing some research and finding a wide variety of opportunities that were very promising. UTRGV had the major and master's program that I wanted to pursue. After my first semester, I got a job that I liked and gave me the opportunity to study while earning some money for living expenses. I like all the resources – tutoring, advising and help with food – the university offers its students. 
What made you decide on your current major?
I started liking psychology when I was in high school. Many people struggling with school or personal problems came to me for advice. My friends told me I should go for psychology because I was very good at listening, but what made me really decide was my mentor, who had a master's in clinical psychology. He always talked about the people he helped while he worked in a mental health hospital. Mental health is a most important concern for everyone, and I want to be able to help people with that. 
What are your plans after graduation?
I plan on continuing my education and get a master's in clinical psychology. I would like to enter the medical field of psychology with it and, then, maybe get another master's in either counseling or research psychology. I would love to work in a mental health hospital to help patients with mental disorders. 
What are you involved in on and off campus?
On the Edinburg Campus, I work part-time at the UTRGV Student Food Pantry, helping students get food to make sure they are not hungry. Additionally, I am the treasurer of the Japanese Animation Club (JAC), where I help manage the money and the club expenses, like the budget for trips to conventions. Finally, I help Dr. Frederick Ernst with conducting research, and I also help as a mentor and volunteer in the lab. 
What is your biggest accomplishment to date?
My biggest accomplishment was to make it through my first years of college, with little knowledge of the English language while keeping good grades. I come from Peru and my biggest struggle when I got here was the language. Additionally, I was awarded two scholarships throughout my career and I made it on the Dean's List last semester.   
What advice do you have for future students?
Organization and time management is key for college, and to know where you are and where you will be according to your actions. Taking your time to study and spend some time with friends and family has helped me a lot because they can be of great help when you're stressed about class or work.