Sub Menu Toggle
Aurora Iris Del Carmen Alaniz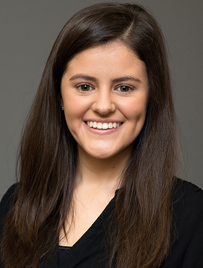 Name: Aurora Iris Del Carmen Alaniz      
Age: 20
Major: Biology
Hometown: Laredo 
Why UTRGV?
When considering universities, I looked for programs and organizations that would help me in achieving my academic goal of earning a Doctor of Pharmacy degree.  I learned about The University of Texas Rio Grande Valley and its Cooperative Pharmacy Program with The University of Texas at Austin.  The curriculum of this program is designed to prepare students, who are from South Texas and are interested in the field of pharmacy, for pharmacy school.  This opportunity has helped me in getting one step closer to my goal.
What made you decide on your current major?
My interest in the field of science began during my middle school years when my parents enrolled me in STEM summer programs.  I knew that the subjects of biology and chemistry were both my favorite and my strongest subjects, so attending these programs helped me explore the many health-related careers available in which I could apply these strengths to ultimately help people.  Through these experiences, I became acquainted with the field of pharmacy. 
What are your plans after graduation?
After graduation, I plan to attend pharmacy school in Texas.  A career goal of mine is to return to my hometown, Laredo, to give back to my community.
What are you involved in on and off campus?
I am currently serving as an officer for the UTRGV Pre-Pharmacy Association. I have also been afforded the opportunity to participate with UTRGV assistant professor Dr. Yasar Tasnif in some research related to organ donation advocacy.  I presented this research at the UTRGV Engaged Scholar Symposium and the 2016 American Transplant Congress in Boston, Massachusetts. The research was also published in the American Journal of Transplantation. During several summer breaks, I have been able to shadow a pharmacist in Laredo.
What is your biggest accomplishment to date?
What has motivated me to continue striving for excellence are my accomplishments.  I have worked hard every semester and have earned Dean's List recognition throughout my college career.
What advice do you have for future students?
Faith, determination, and discipline have helped me be a successful student.  Maintaining a positive attitude and believing that achievement is possible is key to the path of success.  You must persevere and never let a challenge discourage you.  Stay focused on your goals and do your best to accomplish them.