Sub Menu Toggle
Argentina Marie Olivarez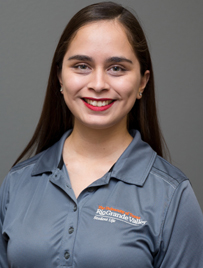 Argentina Marie Olivarez
Age: 20
Major: Pre-Clinical Laboratory Science
Hometown: Pharr, Texas 
Why UTRGV?
I choose to attend UTRGV because it's close to home and it offers the Clinical Laboratory Science program I am interested in. I have younger family members who look up to me and I want to show them that they can also continue their education. When I see one of my younger cousins, he always asks me about college, and I'm glad he asks because I can answer him and he can grasp what higher education is like. 
What made you decide on your current major?
My grandpa has leukemia, so I've always had an interest in wanting to know more about blood and cells. I choose this major because it will give me an opportunity to expand my knowledge and work with blood, cells and tissues. 
What are your plans after graduation?
Pharmacy school is a competitive program to get accepted into, but I promised myself that I would continue my education by achieving my goal of graduating with a Doctorate in Pharmacy no matter how long it may take me. I also plan on traveling and taking my family with me because they are my biggest supporters. 
What are you involved in on and off campus?
I am a student assistant at the Dean of Students office. I love to help students to the best of my ability with any type of questions, but if it's something I am not familiar with then I do my best to point them in the right direction. In my spare time I volunteer at San Carlos Community Resource Center and I recently joined the Biology Club, Animal Therapy Club, and Clinical Laboratory Science Organization. I am looking forward to meeting and working with new people and being more involved. 
What is your biggest accomplishment to date?
My biggest accomplishment would have to be continuing my education after having gone through an unexpected and hard situation in my life. Unexpected occasions can be challenging, but they are meant to test you. After my personal challenge, I've learned that I can face any obstacle that comes my way. Many of us have heard the phrase "It's OK to not be OK," and I truly stand by that. I've learned that things do get better and I got the support I needed not only from my friends and family but also from UTRGV. 
What advice do you have for future students?
My advice for future and current students is to learn time management, form study groups, and ask questions. Know the resources that are available on campus such as tutoring, the student food pantry, mentoring, counseling, and much more because you never know when you might need these services. It is also very important to know that even if you fall or find yourself in an unexpected situation, you can always succeed if you challenge yourself and surround yourself with positive people.