Sub Menu Toggle
Arael Meza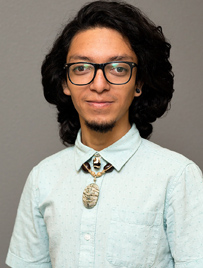 Name: Arael Meza
Age: 25
Major: Fine Arts–Graphic Design
Hometown: Mexico City 
Why UTRGV?
Just as the Rio Grande Valley provides shelter and nurture for millions of migratory birds, the RGV opened its doors to me in 2010 through the Ledezma family of Edinburg. They offered me and my brother support to further our studies in the United States of America, an opportunity that I am thankful for. UTRGV has served as a warm place for the process of my crossover and reinforcement of my identity as a Mexicano-American and has been a rich and diverse place for personal and academic growth.
What made you decide on your current major?
The fascination for the arts came early in my life. I've been influenced by my dad's avocation for photography, the fantastical folk stories told by mi abuelita Roma, abue Guille's skilled passion for cuisine and food decoration, along with Disney, 90s cartoons, TV commercials and the rich environment of folklore and culture that Mexico provides. Graphic design offered me a platform to be an artist as a profession and the visual communication as a medium of self-expression; its colorful voice, freedom and flexibility are tools to the liberal mind. 
What are your plans after graduation?
Even though the answer is work, I want to continue learning – either self-taught or pursuing a master's degree of studio art. I'm planning to work in a creative design firm and get to know the inside out of the industry. With time, I hope to form a team to create an innovative, competitive-free and artistic design studio. Meanwhile, I will work on my own art, do some freelance and continue to explore life.   
What are you involved in on and off campus?
I am a member of the UTRGV Student Media, where I serve as one of the photographers for Pulse Magazine, which has provided a great experience to capture the essence of UTRGV through my lenses. I am a member of The National Society of Leadership and Success at UTRGV and also volunteer at the International Museum of Arts & Science as a graphic designer intern. 
What is your biggest accomplishment to date?
Having won a Golden Student ADDY Award at the local American Advertising Federation-RGV for a holiday card design I created for a UTRGV design competition. The American Advertising Awards (ADDYs) is the largest and most representative competition in the advertising industry. Winning the ADDY in February 2016 was a remarkable incentive to continue pursuing a career in the visual arts. 
What advice do you have for future students?
Don't fear change; realize that everything is movement and move with it.  Learn how to love learning, how to concentrate, and how to train your willpower to find a way or make one. These are practical and life changing tips. Also, figure out your passions and follow them, be present all the time, chase opportunities, and don't waste time; do what you need to do.