Sub Menu Toggle
April Garcia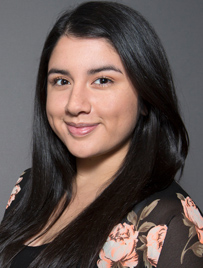 Name: April Garcia                            
Age: 20
Major: Social Work
Hometown: Brownsville 
Why UTRGV?
I chose to attend UTRGV because of the quality of education I would receive at an affordable price. Also, UTRGV is where home is. At UTRGV I have attended multiple events in which students promote activities going on and off campus, which encourages and influences them to give back to their community and get involved with student organizations. I am glad to be part of such a wonderful university. 
What made you decide on your current major?
My freshman year at UTRGV I was majoring in accounting but I was not sure of my choice. I began researching on my own and talking to friends about other fields of study. One of my friends mentioned social work and gave me more information about what social workers do. I did some homework on the major and career and that is when I realized that this is what I've been looking for. As a social worker, I can make difference in this world. I've seen children and the elderly who need an advocate and as a social worker, I can be that for them.  
What are your plans after graduation?
I am in the process of applying for the Texas Department of Family and Protective Services (DFPS) Title IV-E Program, which is available to social work students at UTRGV. This program gives students, who qualify, the opportunity to intern for the DFPS and work for the agency full time after graduation. Working for them has been a goal of mine since I decided on social work as a major. 
What are you involved in on and off campus?
I currently work for the Department of University Marketing and Communications as a public relations student assistant. It has given me the opportunity to get out of my comfort zone and establish my networking. Prior to that, I worked for the Department of Student Rights and Responsibilities as part of the Superhero Project, where I gave trainings to other students regarding academic integrity and alcohol and tobacco awareness. It is truly gratifying to work on campus; everyone is always willing to help you with anything, and you can work around your class schedule. 
What is your biggest accomplishment to date?
I believe my biggest accomplishment is getting to where I am today. I'm now a junior in college and will graduate in fall 2018. I will be the first in my family to graduate from a university, which is an amazing feeling. I have been on the Dean's List since my second semester in college, and on the President's List for the last two semesters. It was not easy, but if you set your mind to it, anything is possible. 
What advice do you have for future students?
You've made it this far so keep going. You may feel stressed and feel time is running out, but you are not alone. Go to every class, ask your professors questions, and don't feel ashamed for not knowing. We are all here for the same reason; we all want a better life for ourselves and our loved ones. Keeping pushing and once you graduate, you will know that everything you did to get there was worth it.