Sub Menu Toggle
Andrea Danae Alemán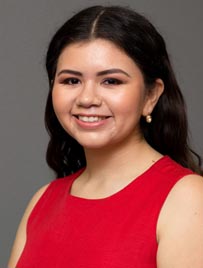 Name: Andrea Danae Alemán
Age: 20
Major: Finance & Marketing
Hometown: McAllen

Why UTRGV?
I chose UTRGV because of the variety of career options it offers and the ability to stay close to my loved ones for a little longer. I like the community that UTRGV has. Students have a passion for what they do and seeing others seeking something they really enjoy only encourages me more to pursue my goals. 
What made you decide on your current major?
It was very difficult choosing a major, I changed majors several times. I chose finance because I think it's an important aspect in any business. Recently, I declared a double major, the second one being marketing. Recently, I've been exposed to students and professors in the marketing program and listening to what they have to say, I realized that it is something I take an interest in. 
What are your plans after graduation?
Graduation is still sometime away for me but I hope that by the time I graduate I have a stable job, even if it's outside of the Valley. I also wish to continue my education with a master's degree and travel as much as I can.    
What are you involved in on and off campus?
On campus, I am a volunteer DJ with UTRGV Radio on a show called "People of UTRGV." I also worked as a news reporter with them and had the opportunity to attend the Texas Intercollegiate Press Association conference in Dallas. I am an active member of IMA (Institute of Management Accountants), also referred to as the Association of Accountants and Financial Professionals in Business. In IMA, I volunteered with VITA, which provides free income tax preparation services. In May, I was part of a study abroad course in Lüneburg, Germany, which was a very rewarding experience. 
What is your biggest accomplishment to date?
I think this, being nominated for Profiles in Excellence, has been my biggest accomplishment thus far. I am honored to have been nominated. I would always look at the people profiled and think to myself, "Will I ever be one of those students?" Now, I get the opportunity to tell my story and I am humbled. I also believe that every day we can accomplish something. Whether you learn how to say 'thank you very much' in German, or make a new friend, learn how to make a skirt, or be interviewed for a friend's fashion blog – all are recent accomplishments for me. I hope to take those small accomplishments and make them work to achieve bigger ones.   
What advice do you have for future students?
I'd tell them to take classes they're interested in, even if they don't fall into their major. Not only will they learn more about the subject but also learn a little bit more about themselves. I'd also tell them to ask as many questions as they can. Even if they're scared to ask, it will be worth it. Also, not only ask questions to professors but also classmates. You may not always get the answers but you'll make a friend, and in college friends can help out a lot.