Sub Menu Toggle
Allysa Garcia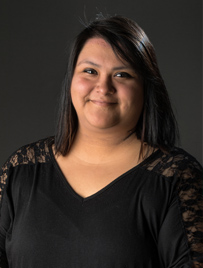 Name: Allysa Garcia
Age: 23
Major:  Music Education
Hometown:  Brownsville 
Why UTRGV?
I chose to attend UTRGV because I wanted to remain close to my family. I was also attracted to the vast number of opportunities the university makes available to students. I have been able to gain experience teaching music in schools throughout Brownsville and San Benito. This is valuable experience that I would have not received at a bigger university.   
What made you decide on your current major?
Music is something that has always been close to my heart. I was a very shy kid who was terrified of speaking in public and I found that music gave me the opportunity to express myself in a different way. Music helped me gain confidence and make lifelong friendships along the way. As a music teacher, I hope to provide my students with the same opportunities to be creative and expressive.
What are your plans after graduation?
I plan to teach music at the high school level and continue passing along my love and passion for music. 
What are you involved in on and off campus?
I am currently the president for the Flautissimo Flute Club, an organization dedicated to improving the knowledge of the flute, its performance, and its teaching. I also work for the Patron of the Arts performance series at UTRGV where I undertake a variety of job responsibilities including selling tickets at the box office, recording performances and creating programs for all events. 
What is your biggest accomplishment to date?
Some of my biggest accomplishments include attending the National Flute Association (NFA) Convention in 2015 where I performed with then-UTB/TSC's Flautarra (Flute and Guitar) Ensemble. I was then selected to perform in a mini-masterclass at the NFA 2016 Convention in San Diego, California. I will be attending the NFA convention one last time as an undergraduate to perform with UTRGV's flute ensemble in Minneapolis, Minnesota 
What advice do you have for future students?
My advice to future students would be to keep the bigger picture in mind and to not let yourself forget why you chose your field of study. Life happens and sometimes it may feel like the end of the world but never forget why you love what you do. It will all be worth it in the end.