Sub Menu Toggle
Alisha Watson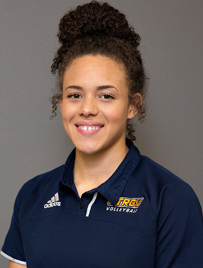 Name: Alisha Watson     
Age: 21
Major: Biology Pre-Med                
Hometown: Round Rock, Texas 
Why UTRGV?
I came to UTRGV as a student-athlete because I could tell they were genuinely interested in my goals and dreams. I loved the academic support in the Athletics Department's Victory Center, which is set up with tutors and academic advisors to monitor our progress. Knowing how much I have going on with academics and school I knew it would be crucial to manage my studies and sports. I really felt like UTRGV had and always will have my interests at heart.   
What made you decide on your current major?
Initially, I came in as a freshman planning to become a nurse. My grandmother was a nurse for more than 20 years, and I aspired to be just like her. However, after my freshman year I worked alongside a nurse while spending my summer volunteering at a free clinic in Round Rock. There, I met patients who confided in me and expressed that they saw great things for me if I ever aspired to become a physician. Hearing their words of encouragement is when I decided that I wanted to change my major and focus on the pre-med route.  
What are your plans after graduation?
After graduation I plan to go to medical school here in Texas in hopes to serve as an obstetrician.  After I graduate in the summer of 2017, I will travel to Costa Rica as a part of the National Society of Leadership and Success for a community restoration service project. This has been a long term goal of mine that I will finally carry out next summer which is extremely gratifying. 
What are you involved in on and off campus?
I am involved in representing the school in volleyball on and off campus. I am also the proud vice president of the Student Athletic Advisory Committee. In this organization we make sure that student athletes are well represented at their universities by voting on Division 1 NCAA legislation and bylaws. In addition, we participate in community service initiatives, and give back to the community through conference-wide donations of toys and other service activities.   
What is your biggest accomplishment to date?
I have several accomplishments that I have been blessed with and extremely grateful for. First and foremost, I am the first to graduate college from my family, serving as a role model for others in my family. While enrolled at the university, I have also received the Dean's List honors every semester. Recently, our UTRGV volleyball team won the WAC Volleyball Championship where I was awarded MVP and had the opportunity to play in the NCAA tournament against UT Austin.   
What advice do you have for future students?
Personally, balancing extracurricular activities properly is crucial because you must have time to study; that's when setting a routine always came in handy. Planning my weeks out in my planner were immensely helpful for me.  I found it easy to get overwhelmed by upcoming tests and events, especially when you feel that they are all overlapping and occurring at the same time. Thus, I would separate my days allocating specific hours of my day to certain activities. Overall, I think that it is important to not be intimidated by new opportunities. Great things don't come easily, but can be achieved with hard work, time and commitment.