Sub Menu Toggle
Alexis Barrera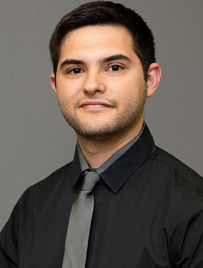 Alexis Barrera
Age: 21
Major: Political Science
Hometown: Roma
Why UTRGV?
UTRGV was the perfect choice for me because I wanted to move away from home. I wanted to experience college life on my own, to grow as an individual and gain more responsibilities, and learn to not cling to my parents. UTRGV provided an opportunity to move from home, but still be close enough to be able to visit my family over the weekend. 
What made you decide on your current major?
Growing up, I always had a passion for social studies/history and computers. All my life I wanted to either be a lawyer or computer scientist, two completely different fields. Entering UTRGV, I had to make a choice on a path to follow so I decided to let the first semester of basics play out to decide. It was Dr.  William Sokoloff's POLS 2313 (U.S. & Texas Government & Politics) course that really inspired me to pursue a major in political science. His course helped me understand that questioning ideas and beliefs is important for a society to prosper.   
What are your plans after graduation?
I would like to travel to Washington, D.C. and seek out internship opportunities to help broaden my perspectives and gain first-hand experience in working to lobby for public policy. My goal is to become a lobbyist to help interest groups or organizations I believe in, such as Planned Parenthood, and advocate for certain legislation that supports women's reproductive freedom. 
What are you involved in on and off campus?
I currently work as a team leader for the Game Room located on the Edinburg Campus Student Union.   My job on campus grants me the opportunity to meet new people and enhances my leadership and mentorship skills. Off campus you can find me playing the card game, "Magic: The Gathering," at a local card shop. Also, I recently began volunteering at a local pet rescue – Palm Valley Animal Shelter. 
What is your biggest accomplishment to date?
One of my accomplishments that I am most fond of would have to be when I earned the opportunity to attend the Association of College Unions International at the University of Houston. This was an opportunity afforded to me by administrators of the Student Union, where I am employed. I learned valuable leadership experience and got to know how different universities and colleges around the world manage their unions and student centers. 
What advice do you have for future students?
I believe to get the most from your studies you must put everything you learn in theory to practice. Participation in class is what you should strive for because it allows you to enhance your university education. I believe engaging with the course material either by presenting examples, asking questions, or simply answering a question, truly demonstrates to your professors how interested you are in the course. University education isn't just about attending day-to-day classes absentmindedly, it is about sharing ideas in the classroom. So, next time you are presented with an opportunity to participate in class, don't be shy.