Sub Menu Toggle
Adriana Alejandra Gárate Castellanos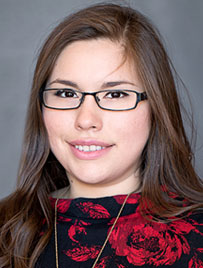 Name: Adriana Alejandra Gárate Castellanos
Age: 22
Major: Nursing
Hometown: Matamoros, Tamaulipas, México 
Why UTRGV?
UTRGV is an institution with a lot of history and excellent prestige. I started college when it was UTB/TSC. I chose this institution because whenever I crossed the border it was the first thing I saw, and to be honest, the campus is beautiful. I always had in my mind that I was going to study here, it was my dream. With time, I realized I had made the right decision. UTRGV pushes students to excel and offers them diverse options to get involved in the community. As an international student, I feel proud being able to study at UTRGV. It has offered me a lot of experiences to grow as a person, student, and professional. 
What made you decide on your current major?
Since I was little, I have been attracted to being part of the health professions. I grew up with that vision, but what made me decide to be a nurse in particular was the experience of taking care of my grandmother. In 1999, she had a pacemaker placement. Since that moment, my grandmother visited the hospital many times, so I grew up in that environment. Over time, she developed Alzheimer's and my mother and I took care of her. I realized nursing is my vocation, and I'm very happy that my dream is coming true this May. I know my grandmother is proud of me from heaven, and that pushes me every day to accomplish my goal. 
What are your plans after graduation?
First of all, I will thank God and my mother for letting me be where I am. Second, I will pass my NCLEX-RN (registered nurse) licensing exam and hopefully be able to work in a Rio Grande Valley hospital. I am particularly interested in working in the operating room department. I would also like to travel to Jerusalem one day and be a missionary nurse. In addition, I plan to continue my education and become a family nurse practitioner. 
What are you involved in on and off campus?
I am a member of the UTRGV Student Nurse Organization. In December 2016 I became a member of the Pi Omicron chapter of Sigma Theta Tau International Organization of Nursing. Outside of school I attend Our Lady Guadalupe Church in Brownsville and help in the youth ministry. I also serve in the choir on Sunday's mass. 
What is your biggest accomplishment to date?
My biggest accomplishment to date has been making my way successfully through this University. I had never imagined the accomplishments that I have made here. I have grown in many different ways, and that makes me feel so proud of myself. This has been a challenge, but I keep going to accomplish my dream of being a nurse. I'm almost at the finish line. Can't wait for it to be May already, when I will graduate. 
What advice do you have for future students?
I hope you all enjoy and love this university as I do. There may be times that you may hate it, but I can tell you at the end you will be proud of what you have accomplished. Never give up! You are in the best place you can be.