Sub Menu Toggle
Abraham I. Martinez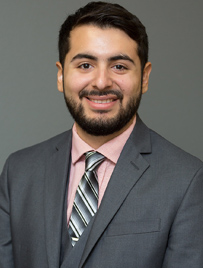 Name: Abraham I. Martinez
Age: 21
Major: Mechanical Engineering
Hometown: Brownsville
Why UTRGV?
I chose UTRGV because it offered me the greatest amount of resources, which allowed me to focus completely on my academics, as opposed to simultaneously worrying about tuition and curriculum. This has enabled me to remain among the top of my class and pursue technical projects and extracurricular activities that allow me to practice theory learned in class. 
What made you decide on your current major?
Space has always fascinated me, and though it is tremendously cliché to say that I was interested in it since I was a boy, that is exactly what happened. I was born too late to observe the Space Race firsthand, but having learned about it in school opened my eyes to an entirely new frontier. In recent years, the space industry has returned to the spotlight and mechanical engineering enables me to combine my fascination with engineering and love for aerospace into a career.
What are your plans after graduation?
I plan to pursue my Ph.D. in either aerospace or mechanical engineering. Beyond that, I hope to land a full-time position within the aerospace industry. I would also like to give back to the community. Once I've established a successful career I would like to work with local high schools to promote STEM education and extracurricular activities.
What are you involved in on and off campus?
As part of the mechanical engineering program, I have been engaged in nonlinear dynamics and vibrations research, and more recently research in unsteady propulsion. I am also vice president and co-captain of the Rocket Launchers, a student organization that promotes aerospace through rocket engineering. In addition to competing at the international level, this organization also promotes aerospace in local schools and at community events.
What is your biggest accomplishment to date?
Three weeks prior to the 2016 fall semester I received an email informing me I had been offered a four-month internship at the NASA Ames Research Center in Mountain View, California. The work I did there exposed me to entirely new and fascinating fields of research I had no idea existed. This internship confirmed I made the right choice to pursue mechanical engineering.
What advice do you have for future students?
One attribute I've always attempted to exhibit is persistence. I would advise anyone else seeking to be successful to do the same: be persistent. Obstacles are a fact of life – things will get in your way and you may be discouraged, but it is exactly during times of discouragement that persistence is needed. I had applied to NASA four times, and nearly did not apply a fifth, but it was only after submitting the fifth that I received an offer and learned that constant drive is key.