Sub Menu Toggle
Abigail Alfaro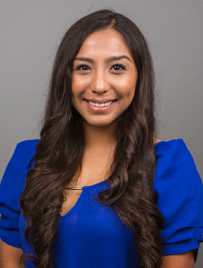 Name Abigail Alfaro
Age: 22
Major: Pre-Nursing
Hometown: Edcouch-Elsa  
Why UTRGV?
UTRGV has offered me so many amazing opportunities. When I was in high school, then-UTPA offered me college readiness assistance through Upward Bound and I fell in love with the university. Once I became a student at UTRGV, I received a migrant housing scholarship through the Abriendo Caminos Living Learning Community (LLC), which opened so many doors for me. Having the accessibility of living on campus gave me the opportunities to get involved, be academically successful and, of course, still be close to home. 
What made you decide on your current major?
I dream about becoming a nurse. Helping others who cannot help themselves, and helping someone get better is what I look forward to in my future. As a mentor, helping others is what I have a passion for and to motivate others to do better not only for themselves, but those around them. Although nursing is difficult, the rewards are countless. I am a woman of action; I go where my help is needed and nursing is my choice of action. 
What are your plans after graduation?
I plan to come back to school and pursue my master's degree to become a nurse practitioner.  With this degree, I plan to become a neonatal nurse practitioner to be able to work with babies and women during such a special and sensitive time. Once I've reached my goals, I plan to give back to my family, community and programs like those that have helped me.   
What are you involved in on and off campus?
I work with UTRGV P-16 Outreach as a Collegiate G-Force mentor and go to high schools where I provide college readiness assistance. Through this office I have been a mentor with Abriendo Caminos, LLC. I have also been a member of Kappa Delta Chi Sorority, Inc. for three years now and have acquired many leadership skills that have led me to earn more than 200 community service hours. 
What is your biggest accomplishment to date?
I am a first-generation college student – the oldest of five children and a migrant student – who has been fortunate enough to have been on the Dean's List and now on the President's List. Being a part of a Kappa Delta Chi Sorority, Inc., I've had the opportunity to hold officer positions such as new member educator and vice president. Through my on-campus job, I have worked during summers as a camp counselor residential assistant and now have earned the position as program assistant. 
What advice do you have for future students?
Life is what you make of it; if you come to the university with a great attitude you're going to have a great experience. At times, it is difficult to maintain a positive attitude, but simply do not give up. Life has its obstacles, but it makes reaching your goals so much sweeter.