Sub Menu Toggle
More than 150 students win awards at 58th annual RGV Regional Science and Engineering Fair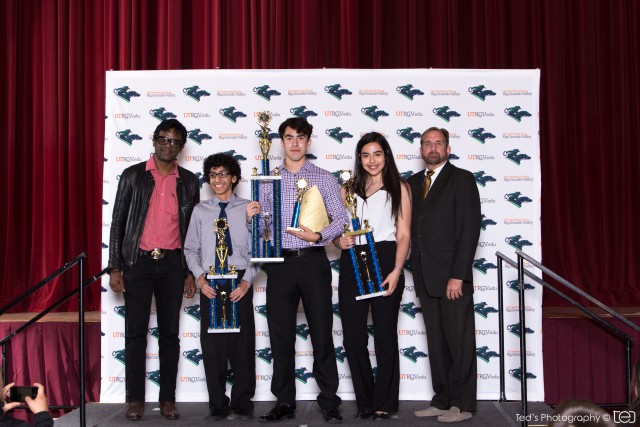 The grand champions at the RGV Science and Engineering Fair are David Garcia, IDEA McAllen High School; Christian Ortiz, Academy for Health Science Professions/STEM, La Joya ISD; and Angelica Rodriguez, UTRGV MSA. They will represent the region at the Intel International Science & Engineering Fair in Pittsburgh, Pennsylvania, in May. (Courtesy Photo)
COMPLETE LIST OF WINNERS: http://www.utrgv.edu/regional-science-fair/index.htm
PHOTO GALLERY:  http://www.utrgv.edu/regional-science-fair/about/gallery/index.htm
BROWNSVILLE, TEXAS – FEB. 8, 2018 – More than 700 middle and high school students from across South Texas participated in the 58th annual Rio Grande Valley Regional Science and Engineering Fair, hosted by The University of Texas Rio Grande Valley on Sat. Feb. 3.
Students competed in 17 science-related fields of study. The top three winners from each category, both senior and junior divisions, now advance to the Texas State Science and Engineering Fair in San Antonio in March.
The top three grand champions of the senior division will compete at the Intel International Science and Engineering Fair in Pittsburgh, Pennsylvania, in May.
The UTRGV Math and Science Academy will send nine students to the state and international competitions. Six projects created by the students received awards.
Angelica Rodriguez, 16, earned first place in the Biomedical Science and Health category, and was First Runner-Up Grand Champion. Rodriguez, from Pharr, is studying biology at UTRGV and hopes to become a doctor.
"Presenting my project before the judges and competing against top students from across the region with interesting and unique projects was an unforgettable experience," she said. "The students I met have motivated me. I am looking forward to representing the region at the international competition."
More than 550 projects were submitted by students representing 60 schools from 10 school districts as far as Laredo.
Projects were set up in the PlainsCapital Bank El Gran Salón on the UTRGV Brownsville Campus, and at the Jacob Brown Auditorium and the Garza Gym on the Texas Southmost College campus.
The UTRGV Office of Community Relations organizes the Regional Science and Engineering Fair, working with area teachers who help students with their projects, and with volunteers and educators who serve as judges during the two-day event.
"The contributions from our sponsors and devotion from our diverse group of teachers, volunteers and staff allow us to advance the best STEM-focused students to the state and international fairs," said Javier Garcia, UTRGV director of STEM Programs. "The state fair director has told me that our students from our region are submitting better projects every year."
Dr. Roni Louise Rentfro, BISD district coordinator of School Improvement, received the Terry Jay Phillips Memorial Award for her many years of dedication and commitment to the science fair.
The award is named for Phillips, a professor at legacy institution UTB–TSC, is remembered for his devotion to his students. He was also a tireless advocate for the Regional Science and Engineering Fair.
"It was my privilege to work with Terry Jay Phillips as one of his students, as an adjunct instructor and peer on several science initiatives," Rentfro said. "Terry was a well-respected instructor and I will cherish this award, as much for it being in his name as for the recognition of my support of science fairs."
MEDIA CONTACTS
Letty.Fernandez@utrgv.edu
UTRGV Community Relations Liaison / (956) 882-6535
Marci.Caltabiano@UTRGV.edu
UTRGV Director of News and Internal Communications / (956) 665-2742