Sub Menu Toggle
UTRGV professor to participate in deep sea stewardship project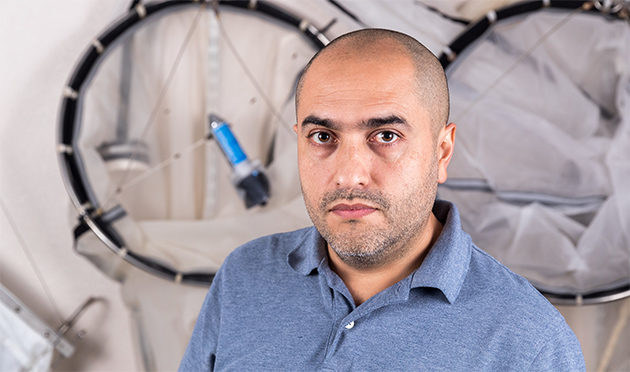 Dr. Diego Figueroa, assistant professor in the UTRGV School of Environmental and Marine Sciences (SEEMS), is taking part in a grant from the National Academies Keck Future Initiative and the Gulf Research Program. The project, "Promoting Public Stewardship of the Deep Blue Sea through Real-Time Interaction with a Mesophotic Reef," is a $100,000 research initiative that consists of interactive lessons and a traveling educational exhibit for use at K-12 classes, community centers and museums. (UTRGV Photo by David Pike)
By Vicky Brito
BROWNSVILLE, TEXAS – FEB. 2, 2018 – Dr. Diego Figueroa, assistant professor in the UTRGV School of Environmental and Marine Sciences (SEEMS) with a joint appointment in the Department of Biology, is taking part in a seed grant from the National Academies Keck Future Initiative and the Gulf Research Program, to promote stewardship of the sea.
The project, "Promoting Public Stewardship of the Deep Blue Sea through Real-Time Interaction with a Mesophotic Reef," is a $100,000 project that consists of interactive lessons and a traveling exhibit that will be used for educational purposes in K-12 classes, community centers and museums.
The system will collect real-time data from a mesophotic reef, via an Internet connection that has environmental sensors and allows control of a high-definition pan/tilt camera. 
Currently, Figueroa is in the difficult process of selecting a site to install the equipment. He said it would be ideal to partner with an active oil rig and place the camera at mesophotic depths, about 30 to 40 meters, or on a nearby artificial or natural reef, and relay the signal from the active oil rig.
"We have not been able to find a good site to place this because natural mesophotic reefs are too far from the coast to relay the signal," he said.
With difficulties finding an oil rig in Texas willing to participate on the project, Figueroa is considering moving the site out of Texas but still in the Gulf of Mexico, or to somewhere in the Caribbean.
THE TEAM
Figueroa attended the 14th annual Keck Futures Conference November 2016 in Huntington Beach, California, where he met and collaborated with four other interdisciplinary professionals, and their team was formed. 
Figueroa serves as the lead principal investigator on this project, joining him are:
· Elizabeth Nyman, assistant professor of Maritime Studies, Texas A&M Galveston.
· Mark Dion, co-owner and artist at Conceptual Artist Studio, New York City.
· Nuno Nuñes, professor of computer science, Técnico University in Lisbon, Portugal.
· Janet Hwang, student at ArtCenter College of Design, Pasadena, California.
The theme of the conference was Discovering the Deep Blue Sea: Research, Innovation, Social Engagement.
"It is not like your regular science conference, where you only have scientists attending about a certain topic," Figueroa said. "There were people from many other professions. The conference brought everyone together for a multidisciplinary effort, and to help us make connections with people outside of our fields. That is one of the main drives of that particular conference."
Figueroa said the groups were asked to sign up for specific projects under general themes involving the deep blue sea. His group was assigned the task of brainstorming ideas to increase public stewardship of the deep ocean.
The group came up with an idea to set up an interactive, high-definition camera in a deep sea habitat that people could access via the Internet to view the environment in real time.
Along with the camera, there would have probes to measure environmental parameters and collect data such as temperature, oxygen and pH levels. 
"The plan is to design a travelling exhibit that we could take to schools, community centers or museums, where people can connect to the camera, get data and see what's living out there," Figueroa said. "And we would have activities for them to experience with the traveling exhibit."
The exhibit also would feature a survey to be filled out before and after the experience, to gauge how participants' views of the deep sea have changed after their interaction.
ABOUT UTRGV
The University of Texas Rio Grande Valley (UTRGV) was created by the Texas Legislature in 2013 as the first major public university of the 21st century in Texas. This transformative initiative provided the opportunity to expand educational opportunities in the Rio Grande Valley, including a new School of Medicine, and made it possible for residents of the region to benefit from the Permanent University Fund – a public endowment contributing support to the University of Texas System and other institutions.
UTRGV has campuses and off-campus research and teaching sites throughout the Rio Grande Valley including in Boca Chica Beach, Brownsville (formerly The University of Texas at Brownsville campus), Edinburg (formerly The University of Texas-Pan American campus), Harlingen, McAllen, Port Isabel, Rio Grande City, and South Padre Island. UTRGV, a comprehensive academic institution, enrolled its first class in the fall of 2015, and the School of Medicine welcomed its first class in the summer of 2016.
MEDIA CONTACTS
Victoria.Brito@utrgv.edu
Informational Writer / 956-882-4330
Marci.Caltabiano@UTRGV.edu
UTRGV Director of News and Internal Communications / 956-665-2742