Sub Menu Toggle
UTRGV named a Texas Mother-Friendly Worksite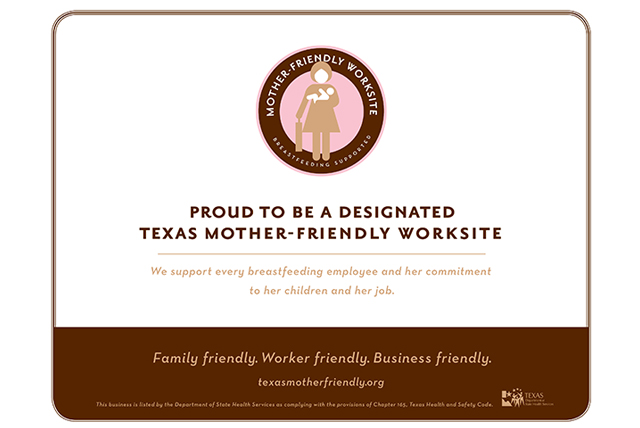 By Melissa Vasquez
RIO GRANDE VALLEY, TEXAS – SEPT. 25, 2017 – The University of Texas Rio Grande Valley has been designated a Texas Mother-Friendly Worksite by the Department of State Health Services, for its support for breastfeeding employees and their commitment to their children and jobs.
Dr. Marie T. Mora, associate vice provost for Faculty Diversity, said the designation demonstrates UTRGV's proactive support of its faculty, staff and students who choose to breastfeed their infants. 
"What this designation means is that UTRGV provides flexibility, including scheduling breaks and work patterns, for UTRGV employees to have time to express their breastmilk," Mora said. "It also means that faculty, staff and students who are nursing have access to private locations that are not bathrooms, and access to hygienic storage options for mothers to safely store their breastmilk."
The university currently provides six Nursing Mother Suites – four on the Edinburg Campus, one on the Brownsville Campus, and one at the Harlingen Clinical Educational Building. 
The suites are equipped with a comfortable recliner, table and television; women must provide their own breast pump and supplies. To access the private suites, users must obtain a Mommy Card from Human Resources or Student Health Services. Currently, there are about 15 Mommy Cards in use by faculty and staff, and seven being utilized by students.
Mora said there is a UTRGV policy on lactation support, which states, "In recognition of the well-documented health advantages of breastfeeding for infants and mothers, UTRGV provides a supportive environment to enable breastfeeding mothers to express milk during work hours." 
The university was able to create the Nursing Mother Suites thanks to the UTRGV National Science Foundation ADVANCE program. Mora said ADVANCE was looking for ways to promote a more "family-friendly" climate at the university.  
"Having nursing mother suites and being publicly supportive of the needs of nursing mothers was a natural initiative for this," she said. "We put it into motion through initial discussions across members of the ADVANCE Leadership Team, the Women's Faculty Network Wellness Committee, the Faculty Senate, Human Resources, and the university's facilities planning and operations," Mora said. "We are excited to know that, as new buildings on our campuses are being designed, additional nursing mother suites will likely be included."
UTRGV is among 2,642 worksites in Texas, and one of three universities in the state, including Baylor and Texas Tech, that earned the Mother-Friendly designation.
MAKING THE MOST OF NURSING MOTHER SUITES
New UTRGV faculty member Dr. Jessica Stewart said she has been utilizing the Nursing Mother Suites since mid-August and finds them to be a tremendous help: They solved her dilemma of how she was going to nurse her 5-month-old son Josiah once she started working at the university.
Stewart, an assistant professor in the Department of Communication Sciences and Disorders, said she had considered switching Josiah to formula when she started working – which she found devastating, as she had worked so hard to establish a nursing routine and wanted to nurse him until he was at least 6 months old. 
"When I found out about the Nursing Mother Suites, I immediately felt a sense of relief. I was so happy that I would be able to meet my goal of six months," Stewart said. "These suites provide me with a nearby place to nurse my son or make him bottles, which relieves a lot of stress for me. 
"Also, these suites allow me to better perform my job and engage in the college community, because without them, I would not be able to attend certain events or functions due to the fact that I would not have anywhere to nurse my child or make him bottles." 
Christina Chavez, undergraduate research and creative works program coordinator for the Office of Engaged Scholarship and Learning, was hired in March 2017 and began using the suites immediately. The convenience of the private rooms has helped her transition from being a full-time, stay-at-home parent to the new breadwinner of the family.
"I am a new mother, and I am not really sure how some parents effectively manage both roles," said Chavez, mother to 17-month-old Katarina. "Sometimes, I feel like my work suffers and, other times, I feel like I miss out on my family. But the nursing mother suites have made it easier to manage providing breastmilk for my firstborn for as long as I possibly can, for her health and wellbeing."
Claudia Garcia, program coordinator for the Office of the Vice Provost for Faculty Affairs and Diversity and mother to 8-month-old Sabrina, said having access to the private, sanitary, comfortable and accessible Nursing Mother Suites so she can pump while at work has been a blessing.
"It is stress-relieving not to have to worry about the logistics of having to make plans in advance for a suitable location to pump breastmilk for my baby," said Garcia, who returned to work when her daughter was 10 weeks old. 
"Instead of worrying about this, I can focus on my work," she said. "That makes me feel accomplished, both as a mom and as a professional."
ABOUT UTRGV
The University of Texas Rio Grande Valley (UTRGV) was created by the Texas Legislature in 2013 as the first major public university of the 21st century in Texas. This transformative initiative provided the opportunity to expand educational opportunities in the Rio Grande Valley, including a new School of Medicine, and made it possible for residents of the region to benefit from the Permanent University Fund – a public endowment contributing support to the University of Texas System and other institutions.
UTRGV has campuses and off-campus research and teaching sites throughout the Rio Grande Valley including in Boca Chica Beach, Brownsville (formerly The University of Texas at Brownsville campus), Edinburg (formerly The University of Texas-Pan American campus), Harlingen, McAllen, Port Isabel, Rio Grande City, and South Padre Island. UTRGV, a comprehensive academic institution, enrolled its first class in the fall of 2015, and the School of Medicine welcomed its first class in the summer of 2016.
MEDIA CONTACTS 
Melissa.Vasquez@UTRGV.edu
Publications Editor/956-66-8926 
Marci.Caltabiano@UTRGV.edu
UTRGV Director of News and Internal Communications/956-665-2742