Sub Menu Toggle
UTRGV will host annual Super Saturday to help students complete financial aid applications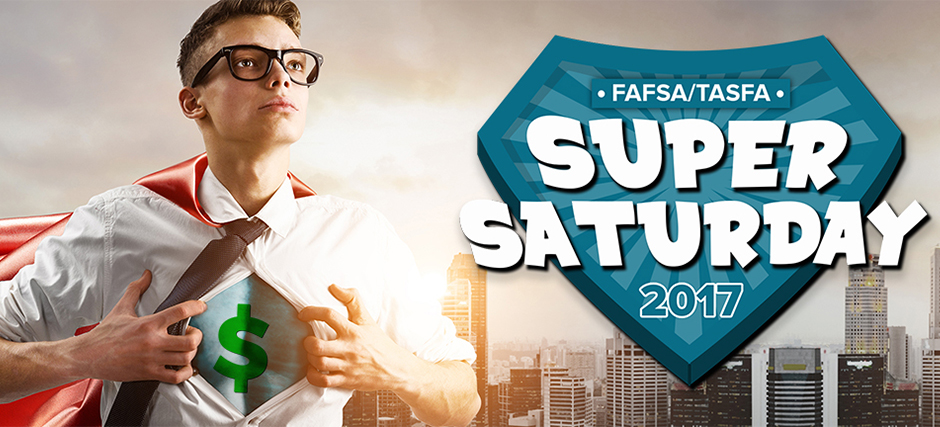 RIO GRANDE VALLEY, TEXAS –– SEPT. 15, 2017 – The University of Texas Rio Grande Valley, in collaboration with RGV focus and other Valley institutions, will host its annual Super Saturday FAFSA/TASFA event on both the Edinburg and Brownsville campuses on Nov. 11. 
Super Saturday is designed to welcome the community and students to both campuses and help them with the process of applying for college admissions and financial aid for the coming year.
During Super Saturday, students get one-on-one help with completing the Free Application for Federal Student Aid (FAFSA) and the Texas Application for State Financial Aid (TASFA).
The university also will offer assistance with completing college admissions applications. Both campuses will have computer labs open for students to complete FAFSA/TASFA forms and apply to college.
Information will be available from UTRGV departments and community organizations, and university staff will be on hand to answer any questions students and families may have about financial aid and the admissions process.
Students are encouraged to take advantage of the FAFSA and TASFA applications availability beginning Oct. 1, and should complete those forms as soon as possible.
The event will be from 9 a.m. to 2 p.m., in the Tower on the Brownville Campus and at the Visitors Center on the Edinburg Campus.
If you are attending Super Saturday, you should bring the following information to help complete your applications:
2016 Tax Returns (for student and parent, if applicable).
2016 W-2s and 1099 statements (for student and parent, if applicable).
FSA ID (for student and parent, if applicable). Students and parents who do not have one will be assisted in creating one.
Other pertinent 2016 income information, such as child support paid and received, and other benefits information.
Students attending the event will be entered into a UTRGV scholarship drawing.
Super Saturday is free and open to the community.
For more information, contact Jael Perez at jael.garcia@utrgv.edu or (956) 665-2958. 
MEDIA CONTACTS
Marci.Caltabiano@UTRGV.edu UTRGV Director of News and Internal Communications
956-665-2742