Sub Menu Toggle
XITO Valley, Tucson teachers host workshop for culturally responsive pedagogy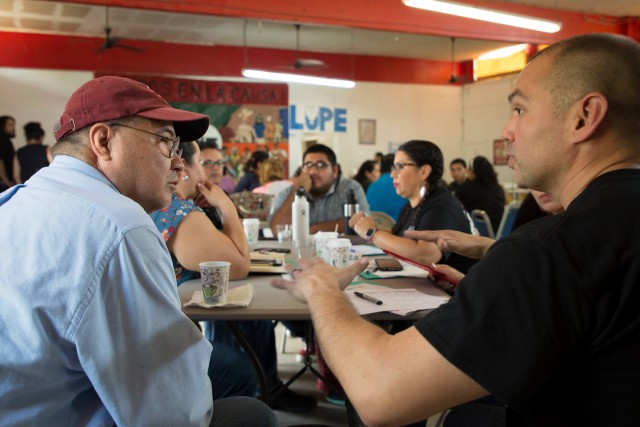 Shown here during an XITO workshop are UTRGV professors Dagoberto Ramírez, José Saldívar and Stephanie Alvarez, and B3 Executive Director Francisco Guajardo, participating in a group discussion at La Unión del Pueblo Entero (LUPE). (Courtesy Photo)
RIO GRANDE VALLEY, TEXAS – OCT. 23, 2017 – The UTRGV Center for Mexican American Studies, La Unión de Chicanxs Hijxs de Aztlán (LUCHA, a student organization) and  La Unión del Pueblo Entero (LUPE) were hosts recently to Tucson, Arizona-based teachers for two-days of workshops on culturally relevant and responsive pedagogy.
Providing support for the Xican@ Institute for Teaching and Organizing (XITO), workshops were the UTRGV B3 Institute, the Center for Bilingual Studies, the Office of Faculty Affairs and the College of Liberal Arts.
XITO's website says it is "an urban education consulting collective … committed to assisting urban school districts, higher education institutions, school administrators and classroom teachers to create inclusive, vibrant and dynamic learning environments. XITO consultants offer support to achieve this goal through the use of culturally responsive, rehumanizing pedagogy, and rigorous/relevant curriculum that inspires every student to thrive." XITO facilitators are experts with decades of experience in Raza Studies.
At the workshops, held Sept. 1-2, XITO facilitators Norma González and José González shared their researched-based pedagogy and community oriented organizing skills geared toward the success of K-12 youths and communities of color. XITO facilitators were joined by Valley native Luis Perales, who shared his view for transformation in the Valley.
Event organizer and UTRGV lecturer of Mexican American Studies, Arnulfo Daniel Segovia, believes this type of methodology is important because "XITO focuses on re-humanization, decolonization, and radical love." Weaving that philosophy into an educator's pedagogy, he says, has substantial potential for transforming the world.
"Such an approach is invaluable and truly an opportunity to challenge our community of educators to push beyond what we believe teaching is," he said.
Dr. Stephanie Alvarez, UTRGV associate professor of Mexican American Studies, said she believes this is the right pedagogy for our students.
"It also has the data to back it up," she said. "A recent Stanford study revealed that the students who took those Mexican American Studies courses in Tucson ISD, the one they banned, were 64 percent more likely to pass their standardized exams, and 150 percent more likely to graduate. That tells us that, clearly, Mexican American Studies and culturally responsive pedagogy is what our students most need," Alvarez said.
In August, a federal judge in Arizona ruled that the state violated the constitutional rights of Mexican American students when it banned a successful Mexican American studies program. The judge found that officials were motivated "by racial animus" and were pushing "discriminatory ends in order to make political gains."
For more information about XITO, contact Amanda Tovar at (956) 665-3212
EVENT CONTACT
amanda.tovar01@utrgv.edu
Graduate Assistant / 956-665-3212
MEDIA CONTACT
Marci.Caltabiano@UTRGV.edu
UTRGV Director of News and Internal Communications / 956-665-2742