Sub Menu Toggle
UTRGV Center for Mexican American Studies celebrating 30th anniversary of Anzaldúa's "Borderlands" with yearlong series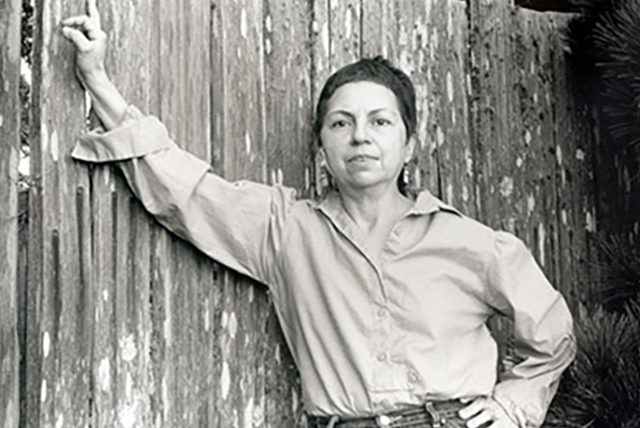 Gloria Anzaldúa (Courtesy Photo)
By J. Edward Moreno 
RIO GRANDE VALLEY, TEXAS – OCT. 19, 2017 – The Center for Mexican American Studies at the University of Texas Rio Grande Valley has launched a yearlong series called "Nuestra Gloria," commemorating the 30th anniversary of the publication of "Borderlands / La Frontera: The New Mestiza," written by Valley native Gloria Anzaldúa. 
Anzaldúa, who spent her early childhood on a ranch settlement in the Rio Grande Valley, is an internationally celebrated author of books, poems and essays, and is most famous for her contributions to Chicano, feminist and Queer theory. 
Her connection to the Valley and the U.S.-Mexico border are pivotal in her work. She came from a family of migrant farmworkers, and when she was 11, they moved from the more rural settlement to Hargill so the children could go to school. Anzaldúa graduated from Edinburg High School in 1962, and graduated from UTRGV legacy institution Pan American University in 1969 with a bachelor's degree in English. 
Since her death from diabetes complications in 2004, the National Women's Studies Association has created the Gloria E. Anzaldúa Book Prize to honor "groundbreaking monographs in women's studies that make significant multicultural feminist contributions to women of color / transnational scholarship.
Born in 1942, she wrote about the racism, sexism and homophobia she witnessed as a young lesbian and aspiring writer living in what was then a geographically remote Rio Grande Valley. 
In her book "Borderlands/ La Frontera: The New Mestiza," she discusses life in the Valley and the culture that is produced when people live along national lines.                                                                                                    
"The U.S-Mexican border es una herida abierta (an open wound) where the Third World grates against the first and bleeds," she wrote. "And before a scab forms it hemorrhages again, the lifeblood of two worlds merging to form a third country – a border culture." 
Stephanie Alvarez, UTRGV associate professor of Mexican American Studies, said Anzaldúa's work can empower students because they directly can identify with her and the topics she addresses. 
"In general, those who read her work can connect with it in a meaningful way," Alvarez said. "She writes about things I think most of our students can relate to, and she gives us permission to express ourselves in our own language." 
On Sept. 26 – which would have been Anzaldúa's 75th birthday – she was commemorated with a "Google Doodle" and an article that briefly detailed her life and contributions to academia.
Alejandro Sanchez, a Mexican American Studies graduate student, was excited to see Anzaldúa recognized nationally, but said there is much more work that needs to be done locally.
"Many students here didn't even know who she was until the Google Doodle, and that's sad," Sanchez said. "She's acknowledged nationally and internationally, but locally, it's quiet."
Ultimately, the Center for Mexican American Studies would like to see some tangible reminder on campus that commemorates Anzaldúa.
"We want to see her presence on campus," Alvarez said. "We want nobody to leave this university without knowing who she is and without having the opportunity to read her work."
MORE ABOUT THE SERIES
The "Nuestra Gloria" series kicked off on Oct. 11, with a presentation by Aida Hurtado, a professor and Luis Leal endowed chair in the Chicano and Chicana studies department at The University of California Santa Barbara.
All events will be held on the UTRGV Edinburg Campus, and will be streamed live to Brownsville.
SERIES TIMELINE
The schedule is tentative and subject to change. Additional events may be announced in the future. To get the latest on scheduling, visit the UTRGV Mexican American Studies on Facebook.
Sept. 26: Anzaldúa's Birthday celebration. 
Wed., Oct. 11: Aida Hurtado, 5:30 p.m. reception, then a talk at 6 p.m. at the Borderlands Room, EDUCC 3.204. 
Fri. Nov. 3: Veronica Cárdenas Showcase, "Traveling Souls" and "Trump," at 4:30 p.m. Then at 5 p.m.: Dr. Mariana Ortega (Pennsylvania State University), "Visuality, Borderlands, and Resistant Mourning," 45-minute presentation at the Old Church Winery, 700 N. Main St. in McAllen.
Dec. 6: "Social Justice and Healing in the Borderlands." A Graduate Student Symposium led by Dr. Stephanie Alvarez, 6 p.m. in the Borderlands Room, EDUCC 3.204. 
Jan. 26: Anzaldúa Plática Marathon.
Last week of February: Ana Celia Zentella. 
March: Ana Louise Keating: TBA.
During FESTIBA: "FOLD: Anzaldúa," by Mariana Alessandri, TBA,
May 16: El Retorno: El Valle Celebra Nuestra Gloria Anzaldúa, 11th annual event. 
TBA: Anzaldúa Children's Storytelling Tour: Anzaldúa wrote two children's books.
ABOUT UTRGV
The University of Texas Rio Grande Valley (UTRGV) was created by the Texas Legislature in 2013 as the first major public university of the 21st century in Texas. This transformative initiative provided the opportunity to expand educational opportunities in the Rio Grande Valley, including a new School of Medicine, and made it possible for residents of the region to benefit from the Permanent University Fund – a public endowment contributing support to the University of Texas System and other institutions.
UTRGV has campuses and off-campus research and teaching sites throughout the Rio Grande Valley including in Boca Chica Beach, Brownsville (formerly The University of Texas at Brownsville campus), Edinburg (formerly The University of Texas-Pan American campus), Harlingen, McAllen, Port Isabel, Rio Grande City, and South Padre Island. UTRGV, a comprehensive academic institution, enrolled its first class in the fall of 2015, and the School of Medicine welcomed its first class in the summer of 2016.
MEDIA CONTACTS
J. Edward Moreno
UTRGV Staff Writer / 956-665-3639 
Marci Caltabiano-Ponce
UTRGV Director of News and Internal Communications / 956-665-2742