Sub Menu Toggle
Three UTRGV students participate in international HackMIT 2017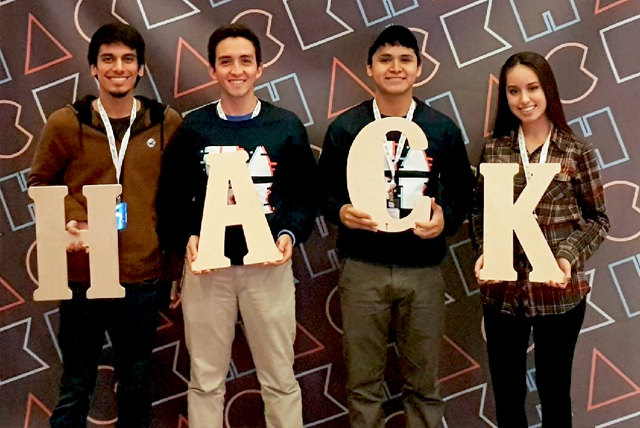 Three UTRGV students were chosen from a large international pool of applicants to attend HackMIT 2017, one of the largest hackathons in the world, held in September in Cambridge, Massachusetts. One thousand students were selected to attend, and were divided into 250 teams. From those teams, Microsoft chose the UTRGV students and one partner from the University of Miami to work on a challenge to help program their world's first holographic computer, the Microsoft Hololens. The UTRGV team, from left, is UTRGV senior Roy Marroquin, a computer hardware engineering major; Germán Quiros, from the University of Miami; UTRGV senior Michael Rayas, an electrical engineering major; and UTRGV senior Abigail Gomez, a computer hardware engineering major. (Courtesy Photo) 
By J. Edward Moreno
RIO GRANDE VALLEY, TEXAS – OCT. 12, 2017 – Three UTRGV students were selected out of an international pool of applicants to participate in one of the largest hackathons in the world, HackMIT 2017, in Cambridge, Massachusetts.
UTRGV seniors Abigail Gomez, a computer hardware engineering major, Michael Rayas, an electrical engineering major, and Roy Marroquin, a computer hardware engineering major, experienced a range of firsts in representing UTRGV at the conference.
"It was my first time being on a plane," Gomez said. "I was freaking out!"
A total of 1,000 students – who grouped into 250 four-person teams – were chosen to attend the hackathon, held Sept. 15-17. In attendance were representatives from Google, Microsoft, IBM, Facebook, Reddit and other large tech companies who also served as judges for the competitions. Students heard from speakers and were able to network with some of the most talented computer engineering students in the world.
Of the 250 teams, just 15 were chosen by Microsoft based on a challenge to help program their world's first holographic computer – Microsoft Hololens. The UTRGV team of three and a partner from the University of Miami, Germán Quiros, were chosen for the challenge as a reward for their good work on the proposal.
The group – which had 24 hours to create a program using the as yet unreleased technology –chose to create a program meant for hospital-ridden children that tells stories, with characters who interact with them.
"While we were brainstorming, we wanted to think of something that could truly change lives," Marroquin said.
Microsoft and Disney reviewed the UTRGV team's creation.
Besides programming unreleased technology, the conference also served as the perfect setting for networking.
A few days before the conference, Gomez received a call from a robotics company based in Massachusetts, asking to set up an interview with her for an internship. She has participated in the first round of interviews, and is waiting to hear from them.
"The whole experience felt surreal," she said. "While we were up there, people would ask where we were from, and when we would tell them, they had no idea where that was and assumed it was a special engineering school.
"I think it's important for people to know that opportunities are definitely out there for us. You just need to look for them," she said.
ABOUT UTRGV
The University of Texas Rio Grande Valley (UTRGV) was created by the Texas Legislature in 2013 as the first major public university of the 21st century in Texas. This transformative initiative provided the opportunity to expand educational opportunities in the Rio Grande Valley, including a new School of Medicine, and made it possible for residents of the region to benefit from the Permanent University Fund – a public endowment contributing support to the University of Texas System and other institutions.
UTRGV has campuses and off-campus research and teaching sites throughout the Rio Grande Valley including in Boca Chica Beach, Brownsville (formerly The University of Texas at Brownsville campus), Edinburg (formerly The University of Texas-Pan American campus), Harlingen, McAllen, Port Isabel, Rio Grande City, and South Padre Island. UTRGV, a comprehensive academic institution, enrolled its first class in the fall of 2015, and the School of Medicine welcomed its first class in the summer of 2016.
MEDIA CONTACTS
J. Edward Moreno
UTRGV Staff Writer / 956-665-3639 
Marci Caltabiano-Ponce
UTRGV Director of News and Internal Communications / 956-665-2742