Sub Menu Toggle
Redux win for Harlingen High in Navy SeaPerch ROV challenge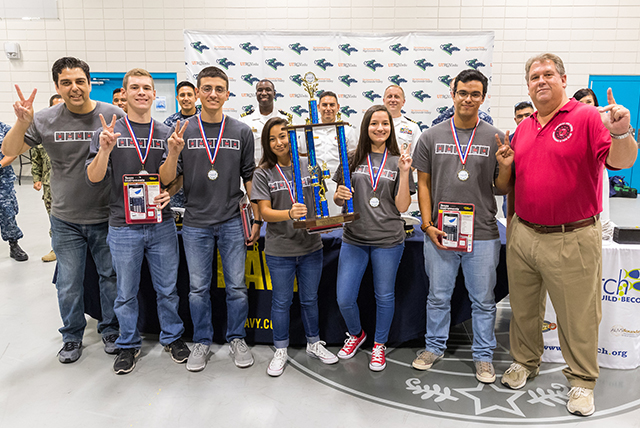 The 2017 U.S. Navy SeaPerch Challenge, held during UTRGV's HESTEC Week at the Harlingen CISD Aquatic Center, brought in teams from schools around the Rio Grande Valley to challenge their engineering skills in developing and building underwater robotics vehicles. Shown here is the winning team, Harlingen High School, which won the Challenge last year as well. The team now advances to the international SeaPerch competition, as it did last year. (UTRGV Photo by David Pike)
By Vicky Brito
BROWNSVILLE, TEXAS – OCT. 6, 2017 – Harlingen High School triumphed for the second year in a row at the annual U.S. Navy SeaPerch Challenge, held Friday, Oct. 6, at the Harlingen CISD Aquatic Center, as part of UTRGV's HESTEC Week.
For the competition, students assemble their Remotely Operated Vehicle, or ROV, compete in overcoming underwater obstacles and go through an interview process.
SeaPerch gives students the chance to learn about robotics and the STEM fields, while building an underwater ROV and applying engineering concepts, problem-solving skills and technical applications.
Javier Garcia, director of STEM Community Outreach Programs in the UTRGV Department of Governmental and Community Relations, said the SeaPerch competition is important for building interest in STEM in young people.
"Our U.S. Department of Defense needs talented and highly qualified scientists and engineers," Garcia said. "As people retire, we need to fill that void with our emerging youth. Technology is constantly evolving. This competition allows the kids to push their STEM knowledge."
THE VICTORS
Michael Tenison, coach for the Harlingen High team, said that despite a late start on this challenge, the students worked hard for their victory.
"We only had three weeks to prepare," he said. "We worked after school every day from 4 to 6 p.m. and practiced at the pool. I am thrilled for these students. They worked really hard and they deserved it."
Harlingen now will compete at the international SeaPerch Competition in May 2018, also for the second time. The team placed in the top 20 of 65 teams last year. This year, they hope to place in the top 10.
HHS senior Ryan Arnold, club president, is one of the remaining team members from last year's winning team.
"It feels pretty awesome to have won," Arnold said. "I wasn't sure if we were going to get a good score or not, and I was kind of stressed out, but I am excited to go to internationals again, I really want us to do well."
This year's second place team was Los Fresnos High School. Third place went to the Science Academy of South Texas in Mercedes.
HESTEC wraps up on Saturday with Community Day on the UTRGV Edinburg Campus from 4-10 p.m.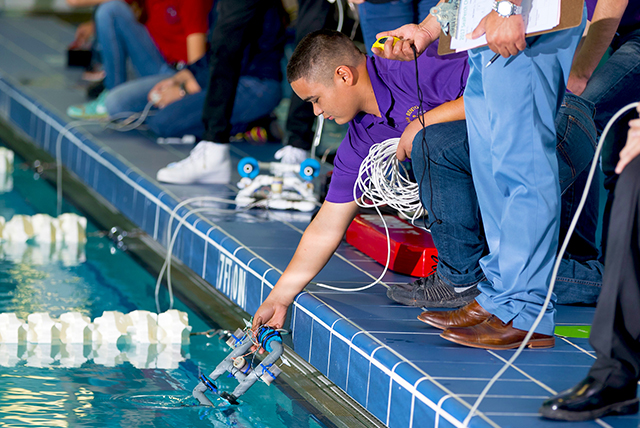 The 2017 U.S. Navy SeaPerch Challenge, held during UTRGV's HESTEC Week at the Harlingen CISD Aquatic Center, brought in teams from schools around the Rio Grande Valley to challenge their engineering skills in developing and building underwater robotics vehicles. During a task competition, two team members attempt the assignment in a given lane of the pool. One steers the vehicle, while the other spots and feeds the line. A judge is assigned to each lane to time the attempt and rule on completion. (UTRGV Photo by David Pike)        
ABOUT UTRGV

The University of Texas Rio Grande Valley (UTRGV) was created by the Texas Legislature in 2013 as the first major public university of the 21st century in Texas. This transformative initiative provided the opportunity to expand educational opportunities in the Rio Grande Valley, including a new School of Medicine, and made it possible for residents of the region to benefit from the Permanent University Fund – a public endowment contributing support to the University of Texas System and other institutions.

UTRGV has campuses and off-campus research and teaching sites throughout the Rio Grande Valley including in Boca Chica Beach, Brownsville (formerly The University of Texas at Brownsville campus), Edinburg (formerly The University of Texas-Pan American campus), Harlingen, McAllen, Port Isabel, Rio Grande City, and South Padre Island. UTRGV, a comprehensive academic institution, enrolled its first class in the fall of 2015, and the School of Medicine welcomed its first class in the summer of 2016.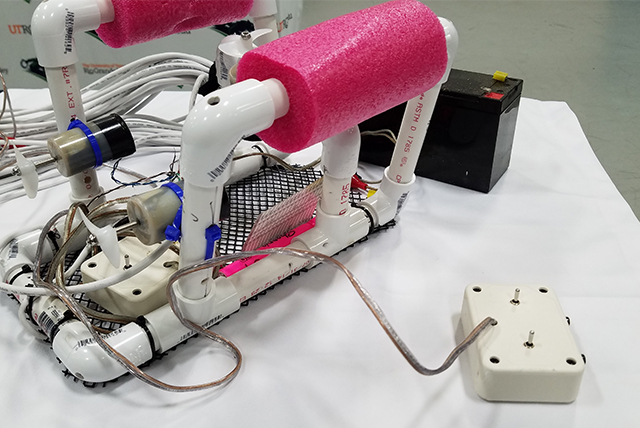 A Remotely Operated Vehicle, or ROV, used in the 2017 U.S. Navy SeaPerch Challenge during UTRGV's HESTEC Week. (UTRGV Photo by David Pike)
 SeaPERCH PHOTO GALLERY: https://utrgv-umc.photoshelter.com/galleries/C0000OxOMyzQL3z4/G0000TytiAqDAIho/20171006-HESTEC-SeaPerch-Competition
Password: seaperch (case sensitive)
VIDEO OF THE SeaPERCH CHALLENGE: https://youtu.be/HQld_9DUObA
MEDIA CONTACTS
Victoria.Brito @UTRGV.edu
UTRGV Informational Writer / 956-882-4330
Marci.Caltabiano@UTRGV.edu
UTRGV Director of News and Internal Communications / 956-665-2742